Have you ever spent hours preparing for an interview? Were you researching what the business is about or were you trying to figure out what to wear!
Outfits for Hawaii come in all shapes and sizes, colors, patterns, and materials. One thing is for sure though, there is a Hawaii outfit for women 'style' and if you're in the market for a new job you'd better be prepared.
Let's jump right into this post on Outfits for Hawaii a look at women's business casual clothing.
What is business casual or Aloha attire in Hawaii?
The invitation for the interview stated that "business casual or aloha attire" should be worn. I knew I was in for a shopping trip because the only clothes I had were decidedly "not-business casual."
I've only worked from home in Hawaii, so I had no need for anything beyond T-shirts, shorts, and untailored skirts. Until now.
I've always been mystified by the term "business casual." I prefer to dress for comfort, so always wondered what's too casual to be considered "business casual" (i.e., "What can I get away with?").
I could see how faded jeans with holes probably wouldn't qualify, but what about dark-wash denim jeans with a neat, tailored fit? And what about sneakers — are they OK if they're clean and classically styled, like a fresh pair of Jack Purcells?
And exactly where on the women's shirt spectrum does a plain T-shirt become a "shell" or "top"?
Luckily, I never had to worry about any of this when I worked at Yahoo because there was no dress code there. The styles that employees wore ran the gamut from preppy to punk, with most of us falling somewhere in between. But now I was treading on APEC's turf, and I had a feeling that a global economics organization probably took "business casual" pretty seriously.
It was time for me to finally learn exactly what that term meant.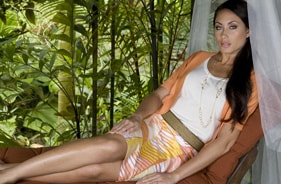 To confuse things further, I was now living in Hawaii, where the weather is warm and the "aloha attire" option exists.
I knew that for men, this meant wearing a tasteful aloha (Hawaiian) shirt, but I was not as clear on what it meant for women. Perhaps I could just throw on a mu'umu'u and be done with it?
Women's "business casual" outfits for Hawaii
According to an article I read after typing in 'women business casual hawaii' into google, "Slight open-toe shoes are acceptable, but footwear should be secured to the foot by a back or strap to prevent flapping when you walk."
What? No slippaz? Not even here in Hawaii, where flip-flops are the unofficial state shoe and some women's styles are fancy enough to wear to a black-tie formal event?
The rest of the article mentioned only two other Hawaii-specific rules:
1) A briefcase is not necessary — a nice handbag will do; and
2) It's OK to wear a fresh flower in your hair to express your personal style.
But what about sleeveless tops? In a land where 90% of the dresses sold in stores are sleeveless, was it OK to go bare-shouldered? Or was some sort of cardigan "cover-up" necessary?
I was thinking of going the dress route, to avoid the "does this top go with this bottom?" issue, but if a cover-up layer was necessary, then that was a moot point.
Almost all of the info I found on "aloha attire" was about men's aloha shirts.
The only useful bit of info I could find was one line in the Wikipedia article on "aloha shirt," which stated that "aloha attire" meant "women wear mu'umu'u or other tropical prints." Not a whole lot of info to go on.
Starting my search for Aloha womens business casual clothes
I knew I was in for a good time at the mall.
Normally I do most of my clothes shopping online from the comfort of my living room couch. But I'd left this dreaded task to the last minute — the interview was just two days away, so off to Kahala Mall I went.
My goal was one that I thought was simple and straightforward: a knee-length dress with short sleeves.
But after scouring the entire women's department at Macy's and then Banana Republic, I came up empty-handed.
Nearly all of the dresses were sleeveless and/or cut above the knee (which I'm not comfortable wearing). And the very few that did have short sleeves and a longer cut were unbearably matronly.
I thought I could surely do better if I just went to a larger mall with more selection.
So off I went to Ala Moana Center, the largest mall I've ever been to in my life.
After spending the entire day marching up and down all three levels of the mall, looking in numerous shops and three department stores, I still hadn't found anything.
I had long abandoned the short sleeves criterion and was now looking for a dress that was simply knee-length, but I discovered that pretty much all non-matronly dresses are cut a few inches above the knee, and I refused to give in on that point.
I finally chucked the dress idea out the window and started looking for a top — with short sleeves. I would worry about a bottom later.
Success finding an outfit
I went back to Macy's, this time the one at Ala Moana Center, which has a larger selection.
I found a tunic-style top with elbow-length sleeves (which I could tolerate) by Tori Richard.
It was in a bright, cheerful print and I could picture myself wearing it more than once. Exhausted, I plunked down my credit card and bought it. The top half of my problem was solved. The next day I would tackle the bottom half.
Thankfully my second day of shopping went more smoothly than the first.
I went back to Macy's at the smaller Kahala Mall and quickly found some linen pants by Sunny Leigh to go with the top I'd bought. I decided my LeSport Sac messenger bag, which I used as a purse, didn't really count as a "nice" handbag, but I soon found a cute little bag by Sunny Hawaii.
Now I just needed to find a pair of shoes with a back and a "chunkier" heel, like the Hawaii Business article had said.
These two criteria eliminated more than half of the women's shoe selection in Hawaii, but I persevered and finally found a pair of espadrille wedges by Naturalizer that fit the bill.
Other outfits worn to the job interview
Half pleased with myself for finally accomplishing my task and half disgusted with myself for taking nearly two whole days to put together a simple outfit.
I walked into my interview today feeling at least appropriately dressed. Waiting to be called into my interview, I looked around the room to see how the other female interviewees were dressed.
And guess what? Nearly all the women were wearing slippers (flip-flops)!
Nice ones, granted, but still backless. And more than one woman was wearing a sleeveless top and looked perfectly appropriate in it, given the warm weather.
Business casual in Hawaii
So what I have I learned from all of this? I think the Hawaii Business article is a good set of rules when standard "business attire" is called for.
But if  "business casual" is what you're after, I would make these amendments:
A formal "suit" is not necessary.
Dresses may be worn instead of a two-piece outfit.
Neutral and solid colors aren't necessary.
Dressy sleeveless tops or sleeveless dresses are OK in Hawaii, as long as they don't show too much skin (e.g., spaghetti straps, halter style, plunging neckline, gaping armholes, exposed back).
A jacket or cardigan cover-up is not necessary (unless you need to cover up too much exposed skin — see above).
Dressy slippers (flip-flops) are OK in Hawaii.
Stockings are not necessary.
Aloha wear for women
And if "aloha attire" is called for (like on Aloha Fridays, or on a wedding or party invitation), I would take Wikipedia's loose definition to mean:
Mu'umu'u is appropriate.
Another style of tropical-print dress is appropriate.
A women's aloha shirt worn with dressy pants, dressy shorts, or a skirt is appropriate.
Any dressy two-piece outfit (top and pants, or top and skirt) that incorporates a tropical-print fabric is appropriate.
Sleeveless tops or sleeveless dresses are OK. The setting/occasion dictates how much skin can be shown (e.g., spaghetti straps are OK at a wedding, but not at work).
A jacket or cardigan cover-up is not necessary (unless you need to cover up too much exposed skin — see above).
Dressy slippers (flip-flops) or other dressy sandals are appropriate.
Dressy shoes with more coverage (e.g., pumps) are OK, too.
Stockings are not necessary.
Final thoughts on outfits for Hawaii
Dressing appropriately for a job interview is always tricky. Finding the right balance of clothes becomes all the more difficult when you live on an island with a "business casual" and "aloha" style!
Outfits for Hawaii don't have to be overly complicated though, use common sense and try to find clothes that blend the Hawaiian Aloha style and mainland generally acceptable job interview clothing.
Of course, depending don't the job you're applying for you'll adjust your clothing to fit. Don't stress though, you've got this! Best of luck!