Historically a whaling town, Lahaina has become a trendy Maui location that has attracted a collection of art galleries, restaurants, and unique stores. The town is located on the western side of Maui and is now a popular tourist destination. 
Lahaina's rich history and modern artsy culture make it an excellent place to visit but it's the string of beaches along the Lahaina shoreline that make the town a snorkeler's paradise. Lahaina snorkeling is an experience for everyone, from first-time snorkellers to the very experienced, as well as a variety of marine life and ocean habitats to explore.
Table of Contents
Where are the best spots to snorkel in Lahaina Hawaii?
Lahaina has several great snorkeling spots due to the rich marine life that can be found just off the coast and the high visibility afforded by its clear water.
Mala Wharf
Located within the town of Lahaina, Mala Wharf is one of the best snorkeling spots in the Hawaiian islands. This excellent spot is located just a 10-minute walk from Lahaina Harbour, making it very accessible for visitors that do not have a vehicle. It's an excellent spot for beginners and expert snorkelers, so it's a great place to bring the kids along if you are traveling as a family. 
Mala Wharf is host to a myriad of sea life, with regular sightings of sea turtles, reef sharks, and many varieties of tropical fish. The coral reef provides a home for a colorful array of sea creatures that are easily spotted while snorkeling. As far as Lahaina Snorkelling goes, Mala Wharf is a must-see!
Honolua Bay
Honolua Bay is a sheltered bay with incredibly diverse sea life that is just a 20-minute drive from Lahaina. The diverse sea life at Honolua Bay is in part due to its protection as part of the Honolua-Mokule'ia Bay Marine Life Conservation District, which protects the ecosystem from fishing and other harmful activities. 
The best reefs for snorkeling at Honolua Bay are a fair distance from the shore, meaning this spot is best suited to stronger swimmers who can confidently swim an extended distance to the reefs. Honolua Bay comes into its own when there are significant winds in other spots along the coastline, as it is quite sheltered but be sure not to visit when there has been recent rain as this can have a significant impact on the visibility in the Bay. 
Black Rock
Black Rock is the rocky point of Ka'anapali Beach and is a very popular snorkeling spot. Ka'anapali Beach is an approximately 12-minute drive from Lahaina. Despite its popularity, Black Rock doesn't live up to the hype when it comes to snorkeling, at least for more inexperienced snorkelers. It doesn't offer very much reef to snorkel along and most of the coral is located against the rocky outcropping itself. The strong current at Black Rock can be very strong and snorkeling is only advised if it's very calm. If you are snorkeling with small children, it's best to pass on Black Rock and go to one of the safer, family-friendly spots on this list!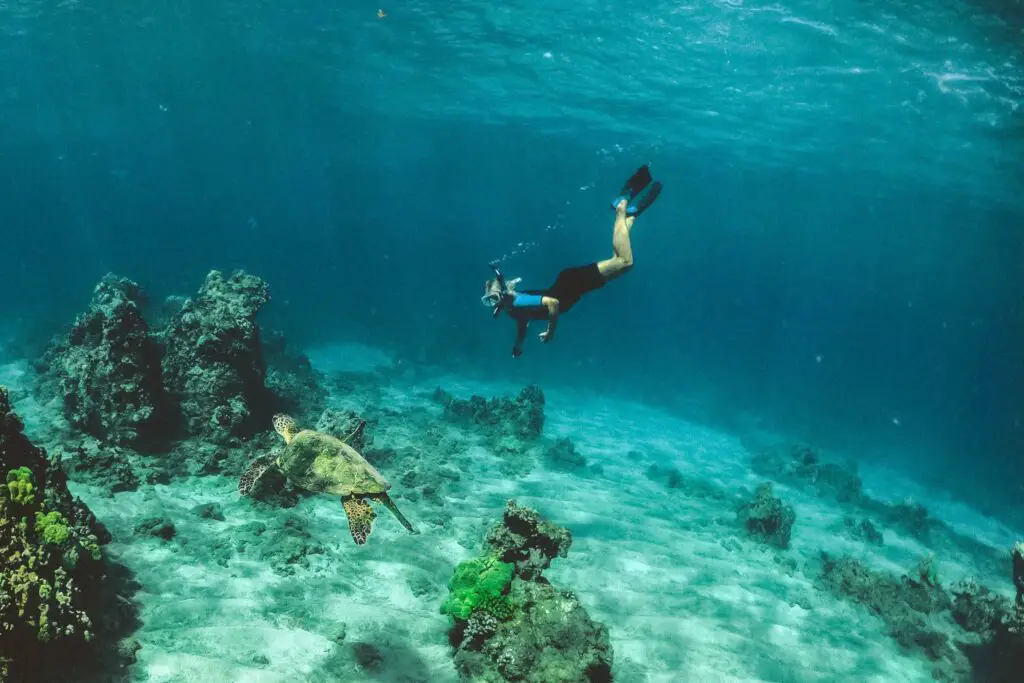 Lahaina Snorkeling Trips from Lahaina Harbour
Several companies run snorkeling trips departing from Lahaina Harbour which will transport you via boat to snorkel at different points along the Maui coastline or near other islands. Some of these tours even offer whale watching and dolphin spotting in addition to the snorkeling stops! If you want your snorkeling experience made simple, a snorkeling trip from Lahaina Harbour is the way to go! You won't need to walk to your snorkel spot; experienced crews will take you directly to the best snorkeling spots for the weather conditions. Many tours even include food and drinks while on the boat. 
Hawaii Activities offers some fantastic snorkeling tours, all inclusive for the whole family. Check them out if you're looking for a great value snorkeling cruise.
Some of the best snorkeling spots near Lahaina are only accessible or most easily accessible via boats, such as the Molokini Crater and Turtle Town. So it's definitely worth checking out the boat tours available from Lahaina Harbour as they can help you to access incredible and unique experiences that are inaccessible from the shore.
Molokini Crater
Molokini Crater can be reached only by boat, which means the best way to visit is to take one of the many snorkeling trips from Lahaina Harbour to the crater. The volcanic crater itself is partially submerged and forms a crescent shape that is home to hundreds of species of sea life, just waiting to be explored. 
For a snorkeling experience that is distinctively Hawaiian, Molokini Crater is the place to go as many of the species of marine life that can be found there are unique to Hawaii. The crater provides protection for the marine life living there and also ensures the water is incredibly calm and clear. This means visibility is excellent for snorkeling. The popularity of the crater means the fish are quite accustomed to humans which means you can get incredibly close to them while swimming. 
Molokini Crater is an appropriate snorkeling location for children and families, especially as all tours of the area are guided by an instructor who can assist first-time snorkelers in using the equipment provided.
Kahekili Beach Park
Kahekili Beach Park is a 10-minute drive from Lahaina and has excellent access for snorkeling as the reef is close to the shore. This means you don't need to swim out as far to see the beautiful coral reef, turtles, and fish this spot is known for. The best spot to enter the water at Kahekili is directly in front of the pavilion. From there, the rocks and reef are quite close to the shore so you will want to put your fins on quickly after entering the water. 
When you first get in the water, you might notice that the visibility isn't optimal, but if continue a little way from the shore, the visibility conditions clear up quickly. We recommend heading out early to snorkel at Kahekili in the morning as the wind and weather conditions usually make the water less calm in the afternoons. 
Turtle Town
Turtle town is an amazing coral reef formed in and around ancient lava formations which were created by underwater volcanoes erupting in times gone by. As the name suggests, Turtle Town is home to a huge population of Hawaiian green sea turtles! At Turtle Town, you can have a truly intimate experience with these beautiful creatures as they are so tame. 
Snorkeling at Turtle Town can be accessed from Maluaka beach, which is a 50-minute drive from Lahaina. Access to Turtle Town from the beach involves an approximately 200-yard swim from the beach to the turtles. This option is best for experienced swimmers. Alternatively, many Maui tour companies offer boat trips out to Turtle Town, cutting down on the swimming required to see this vibrant coral reef and its majestic inhabitants.
Kapalua Bay
The calm water of Kapalua bay makes it the perfect spot to bring kids for snorkeling. Located just 20 minutes out of Lahaina, on the northwest coast of West Maui, this beautiful white sand beach is protected by two reefs and is a very popular spot for families to try out snorkeling. 
Keep in mind that the sandy center of the Bay will have low visibility due to the sand clouding the water. It's best to head over to the north end of the beach and follow the rocky edge of the bay around as the water is relatively shallow in this area, making it easy to see the myriad of fish while swimming along the surface.
Napili Bay
Napili Bay is another great snorkeling spot for beginners, due to the excellent visibility and shallow waters. 
It's a 20-minute drive from Lahaina so it's a great spot to check out if you're staying in town. Although there is little coral in this spot, there are many varieties of tropical fish and it is possible to get excellent close-up photos of the marine life. 
Napili Bay must be accessed from the Napili Kai Beach Resort, but the resort's parking lot is available to all visitors. From here it is simple to access the beach via the hotel complex. Once you get down to the beach, head to the north of the beach. 
The most interesting area for snorkeling is found near the point, opposite the rocks emerging from the water off-shore. There are many species of fish and sea urchins to be found on the seabed close to the beach.
Mokule'ia Bay
Mokule'ia Bay, which you might hear the locals refer to as 'Slaughterhouse,' is located just a 20-minute drive from Lahaina. The limited (about 10) parking spaces available near the beach mean that this spot is usually very quiet, making it a perfect calm spot for snorkeling. There are plenty of turtles and tropical fish in the habitat created by the large stones on the seabed. 
While Mokule'ia Bay is a relatively calm snorkeling spot in spring, summer, and fall, we recommend steering clear during the winter months. In winter the waves can get quite rough and are not appropriate for inexperienced swimmers. 
The bay is calm in the morning so be sure to arrive early and pay attention to the conditions throughout the day. Mokule'ia Bay is recommended for more experienced snorkelers and confident swimmers. 
The Bay has beautiful scenery so it's worth checking out even if you're not planning to snorkel. It's an excellent spot for sunbathing or a beach picnic.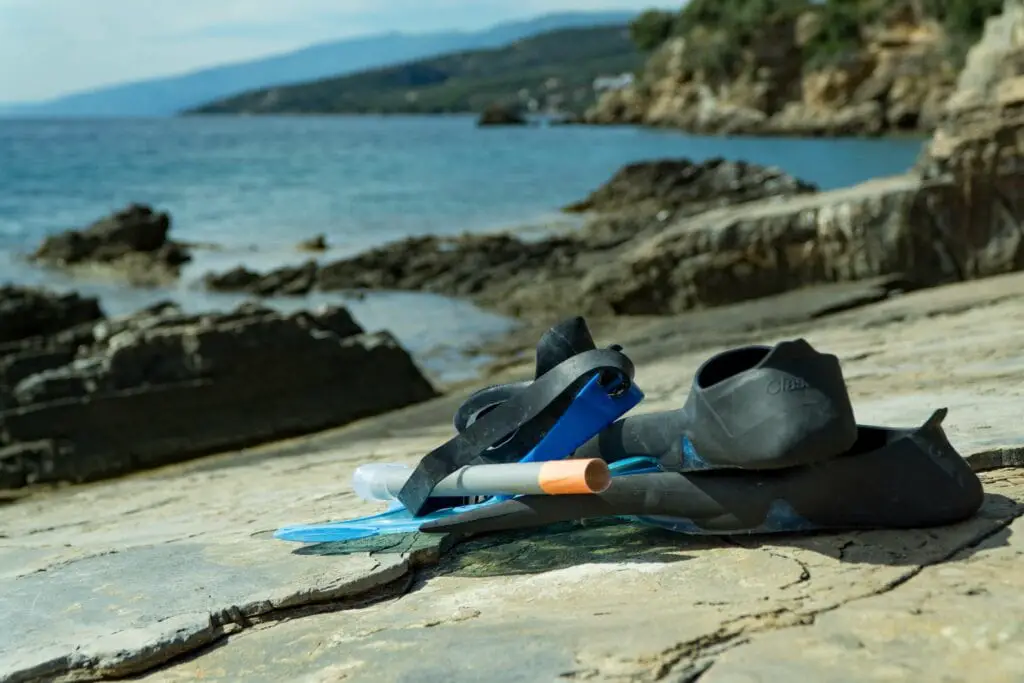 Where to hire snorkeling equipment in Lahaina
There are plenty of places to hire snorkeling equipment in Lahaina as it is such a popular activity in Maui. It usually costs around $5 to hire a snorkel set including a mask, snorkel, and fins. Going to an equipment hire store early in the morning means you will have more time to make the most of your day of snorkeling and allow you to check out those beaches that have better snorkeling conditions in the morning due to the wind or weather.
While you're at the hire store, why not ask the staff what their favorite spot to snorkel on Maui is? They're likely to know the best places to snorkel in the area.
Snorkeling alternatives
Have you found yourself traveling with someone that doesn't like to snorkel, or isn't a confident swimmer? No worries, Lahaina has something for the whole family to enjoy! If you're looking for other activities on the calm waters, in whale season, Lahaina is an excellent place to take a humpback whales watching tour. You can even take a submarine tour to see the reef from below. 
If your traveling party prefers to keep your feet on dry land, there is plenty to check out in Lahaina itself. Banyan Tree Park on Front Street is an amazing park with an iconic banyan tree that has grown to over 60 feet. Underneath the tree is plenty of picnic tables which are a good spot to relax and read a book or enjoy some lunch.
Lahaina has a beautiful historic downtown precinct centered around Front Street, which is a great spot to explore. There is a historic walk tour of the downtown area which is self-guided and free. The modern-day Lahaina has an eclectic, artsy feel to it and we recommend checking out a few of the many art galleries that have popped up in the downtown area.
If you are looking for an intimate interaction with Hawaii's gorgeous natural landscape, look no further than snorkeling at Lahaina. Much of the marine life to be explored is uniquely Hawaiian and cannot be experienced anywhere else in the world. Many Hawaiians feel a strong sense of connection to the natural beauty of the islands, and it's easy to understand why when face-to-face with the myriad of tropical fish, turtles, sea urchins, and sharks that live just off the coast. Get up close and personal with Hawaii's beautiful ocean inhabitants – it's an experience you won't forget!