If you've ever wanted to see Humpback Whales in their natural habitat, whale watching in Maui is the place to make that dream a reality. The island's surrounding waters are a well-known hub for whale activity during the winter months.
From November to May every year, about 12,000 North Pacific Humpback Whales migrate south from Alaska and make Maui their home for the winter. They undergo the treacherous 3,000-mile journey to escape frigid Alaskan waters and to safely breed and nurture their calves. Maui's warm shallow waters are the perfect nursery for Humpback mothers to nurse their young and train them for the challenging swim back to Alaska.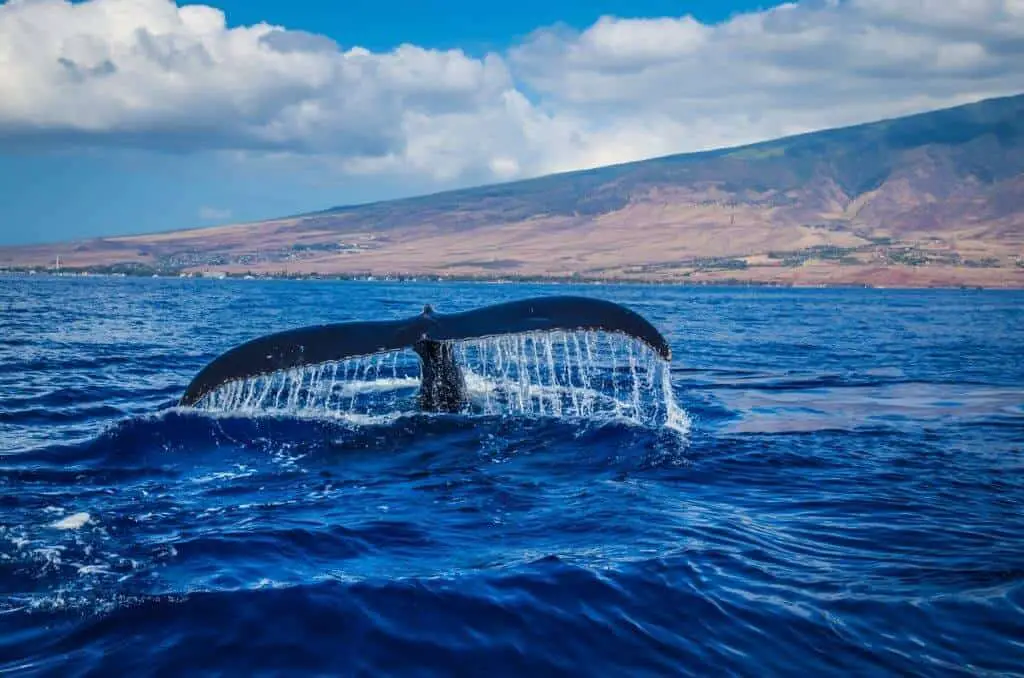 His area of ocean was deemed so crucial to the Humpbacks' survival that in 1992 Congress established the Hawaiian Islands Humpback Whale Marine Sanctuary to protect it and the whales that call it home. The sanctuary encompasses 1,400 square miles of ocean in the four islands that make up Maui County as well as areas in Oahu, Kauai and The Big Island of Hawaii. With the help of this kind of Federal legislation and the international ban on commercial whaling in 1986, Humpback Whales have significantly increased in number over the last 50 years and continue to flourish.
This population boom means that whale enthusiasts have the opportunity to see these wondrous creatures in the wild by simply booking a tour, and Maui is the ultimate destination to do that.
Best Time To Go Whale Watching In Maui
Whale season is officially November – May, but the best time to go whale watching in Maui is during peak season from January – March, with the most activity seen in February.
During peak season, tour prices tend to be higher but sightings are almost guaranteed since the most whales are in the area at this time.
At peak time, Humpbacks can often be spotted from land on Maui's southern, western and northern shores. With a good pair of binoculars, keen watchers can see them breaching the ocean's surface and engaging in other whale behavior. But for more intimate encounters with the whales, a guided boat tour or whale watching cruise is the way to go.
Best Whale Watching Tours In Maui
Maui guided boat tours and cruises offer whale watchers the chance to closely witness these majestic sea mammals in all of their grandeur. However, not all tours are created equal. When deciding which one to book, you want to consider things like vessel type, departure location, experience level of the staff and whether or not food and drinks are served on board.
You might also want to check the weather forecast and try to book on a day when conditions will be calm and clear. Here are 4 of the best whale watching tours in Maui.
Pacific Whale Foundation (Recommended)
Vessel Type: Double deck powered catamaran
Departs: Lahaina and Maalaea Harbors
Pros: Tour packages for every budget, certified Marine naturalists on board with hydrophone to hear whale songs, restrooms on board, binocular and camera rentals available, ecotourism organization that donates all profits to marine research and conservation.
Cons: Catamaran has 147-passenger capacity so if your tour is fully booked it may feel a bit cramped.
>>>Pacific Whale Foundation Tours<<<
Trilogy Excursions
Vessel Type: Deluxe sailing catamaran
Departs: Lahaina and Maalaea Harbors and Kaanapali Beach
Pros: Experienced whale naturalists and hydrophones, food and drinks served on board, restrooms on board, smaller groups of 40 – 50 per trip
Cons: Pricier compared to other tours
>>>Trilogy Excursions<<<
The Pride of Maui
Vessel Type: Double deck glass-bottom cruise boat
Departs: Maalaea Harbor
Pros: Whale watch package includes snorkeling tour, BBQ lunch and open bar, restrooms and showers on board, lots of deck space, naturalist and hydrophone
Cons: Larger boat capacity means the possibility of over-crowding.
>>>The Pride of Maui Tours<<<
Ultimate Whale Watch and Snorkel
Vessel Type: Zodiac raft boat
Departs: Lahaina Harbor
Pros: Small groups of 18 passengers per trip, faster ride to whale sites so more time is spent whale watching, certified marine specialists on board, guaranteed sighting so if you don't see a whale on your first trip you can go again for free.
Cons: Restrictions on pregnant women, people with back or neck injuries and anyone under 4 years old, boat ride can be rough if water is not calm, no food and only water served, no restrooms on board.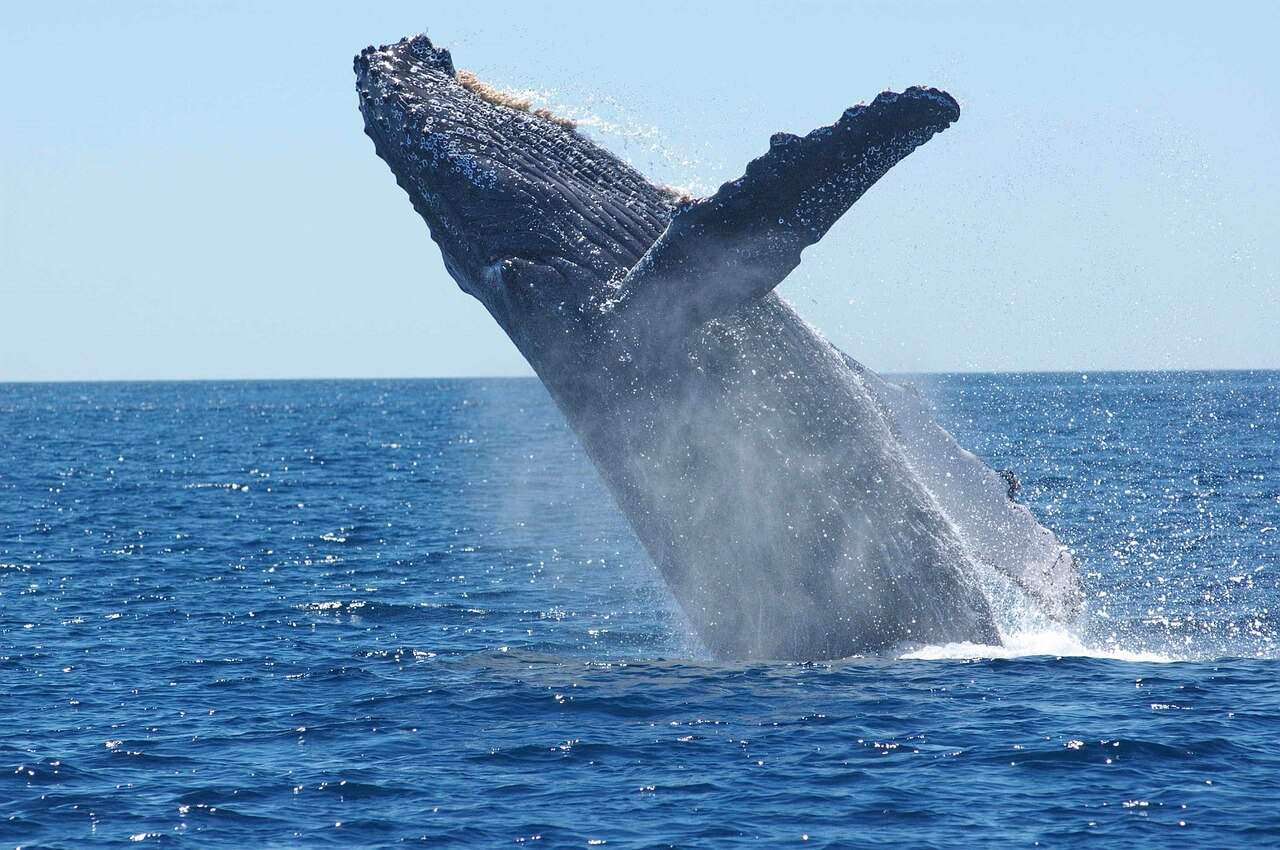 Related Article: Where To Go Shopping In Maui
7 Tips For Your Maui Whale Watching Trip
Now that you've booked your tour, you'll need to prepare so that your whale watching trip is as enjoyable and memorable as it can be. Here are 7 tips to help you make the most of this once in a lifetime experience.
1. Wear Appropriate Clothing.
For the most part, winter temperatures in Maui are comfortable with average highs in the 70's and lows in the 50's. However, the wind factor on the boat can make for a chillier ride than you anticipated. Bring a long-sleeved hoodie or windbreaker jacket to keep you warm. There's also the possibility of getting drenched if conditions are rough. You may want to bring a change of clothes if the thought of being soaking wet doesn't exactly "float your boat".
2. Bring Sun Protection.
As always, you want to make sure you're protected from the sun's harmful UV rays. Apply sunscreen with SPF 30 or higher to exposed skin at least 30 minutes before heading out and reapply every 2 hours. Wear a hat, sunglasses and long sleeves for additional protection.
3. Prepare and protect your electronic devices.
Make sure phones and cameras are fully charged and in waterproof casing. It's also a good idea to secure them with wrist or neck straps. If you don't want to risk damaging or losing your devices, check if your tour company offers camera rentals.
4. Binoculars.
Bring binoculars if you have them so you can zoom in on the whales for a closer look. Some tour companies offer binocular rentals.
5. Bring snacks and water.
Not all tours offer meal service so you may want to bring your own snacks and water, especially if you have small children with you. Check if your tour includes food and drinks and plan accordingly.
6. Prevent sea sickness.
If you're prone to motion sickness or aren't sure how your tummy will react to being on a boat, you may want to take measures to prevent or minimize symptoms of sea sickness. Talk with your doctor ahead of time to see if Dramamine or prescription patches are an option for you. If you do start to feel sick on the trip, find an open-air spot that's high up on the boat and focus on a stationary point on the horizon. This helps relieve motion sickness by stabilizing the body's equilibrium.
Foods like saltine crackers, ginger candy, ginger ale, and citrus fruits also help settle an upset stomach so bring some along. Some tours have these on hand for sea sick passengers.
7. How to spot the whales.
Take a little time before your trip to learn about common whale behavior such as breaching, tail-slapping and spy-hopping. You can spot them more easily when you know what movements to look out for. Wearing a hat and sunglasses also helps you see the whales by reducing glare on the ocean's surface. Most importantly, have fun and take in the beauty and wonder of these magnificent creatures!