Maui is usually synonymous with cascading waterfalls, pristine sandy beaches, and bottomless Mai Tai cocktails.
While the island certainly has no shortage of these dream vacation staples, it's a lesser-known fact that shopping malls in Maui are world-class and Maui actually boasts some of the best shopping malls in all of Hawaii.
From luxury and national brand-name stores to quaint local crafts and souvenir shops, Maui's malls have something for every shopper and budget.
If you're planning a vacation or relocation and need to know where to go shopping in Maui, this mall guide is for you. Here are the best malls in Maui that offer impeccable shopping and dining for visitors and locals alike.
Why go Shopping in Maui?
Why not? If you're here on holiday you might want some respite from the sun and what better place to catch a break than the mall!
There are plenty of amazing malls in Maui filled with all the brands you know and some you've probably never heard of!
Kahului – Central Malls in Maui
Queen Ka'ahumanu Center (Queen K)
Located just 3 miles from Kahului Airport and accessible by all Maui bus lines, the Queen Ka'ahumanu Center is Maui's biggest mall with 100+ stores, restaurants and a large food court.
The unique open-air layout allows mall-goers to enjoy the sunshine and fresh air while perusing the shops.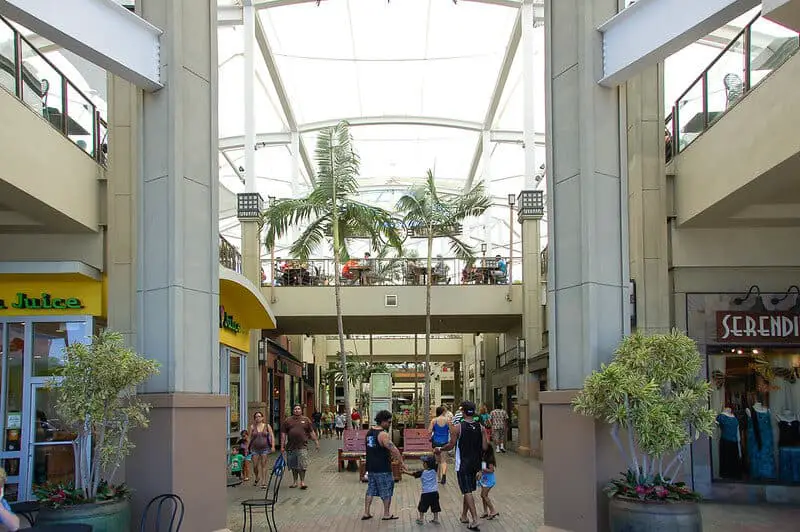 Suppose shopping at national chain stores doesn't sound particularly exciting while you're on vacation… In that case, you can still enjoy live local entertainment on Maui Made Sundays or check out the Maui Fresh Farmers Market at Center Court.
Mall Hours: Every day 10am – 7pm.
Parking: Free for 2 hours, covered.
Featured Events: Maui Fresh Farmers Market – Tuesday, Wednesday, Friday 8 AM – 4 PM
Maui Made Sundays – Sundays 9 AM – 4 PM
Google Maps
Maui Mall
Like the Queen Ka'ahumanu Center, Maui Mall has an open-air design and is located only minutes from Kahului Airport.
However, it is smaller and has fewer shopping options. Locals usually go to catch a flick at the top-notch Regal Megaplex Theaters or grab a healthy bite at the Whole Foods Market deli.
The mall features a kids' water fountain play area to keep the little ones happy and entertained.
Mall Hours: Open every day 7am – 9pm
Parking: Free
Featured Events: Frequent events available, check this page for more info.
Google Maps
Kaanapali/Lahaina – West Side of Maui Malls
Whalers Village
Who says you have to choose between the beach and shopping? At Whalers Village in Lahaina, you can have both.
The beach-side outdoor mall is a popular tourist spot for shopping, dining, and entertainment because of its close proximity to the Kaanapali beach hotels and resorts.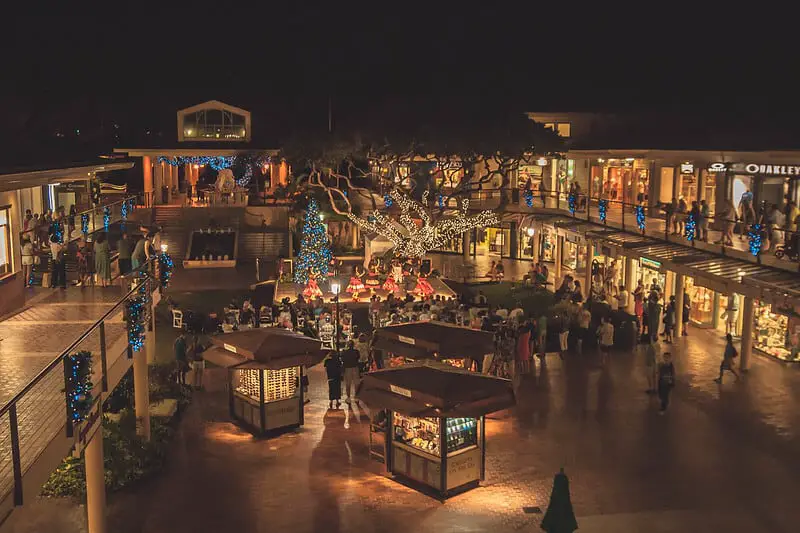 Here you can grab a souvenir or buy a new bathing suit at one of the beach and surf-themed apparel shops. You can also enjoy oceanfront alfresco dining or get your caffeine fix at Island Vintage Coffee.
Other fun features of the mall include a whaling museum, a children's play area, and a variety of free weekly Hawaiian culture lessons and activities.
Mall Hours: Open every day, 9 AM – 9 PM
Parking: 2 hours complimentary parking with validation, $4 per half hour beyond that.
Featured Events: Events updated frequently and include things like Lei Making, Hula Lessons, etc. Check the page here
Google Maps
Lahaina Cannery Mall
The Lahaina Cannery Mall, conveniently located near Kapalua and the Kaanapali resort area, sits where a historic pineapple cannery once was.
It sets itself apart as the only fully enclosed air-conditioned mall for shopping in Maui and has over 50 boutiques, restaurants, specialty shops, and a 24-hour Safeway.
From souvenirs to groceries, visitors and locals can find everything they need at this one-stop shop.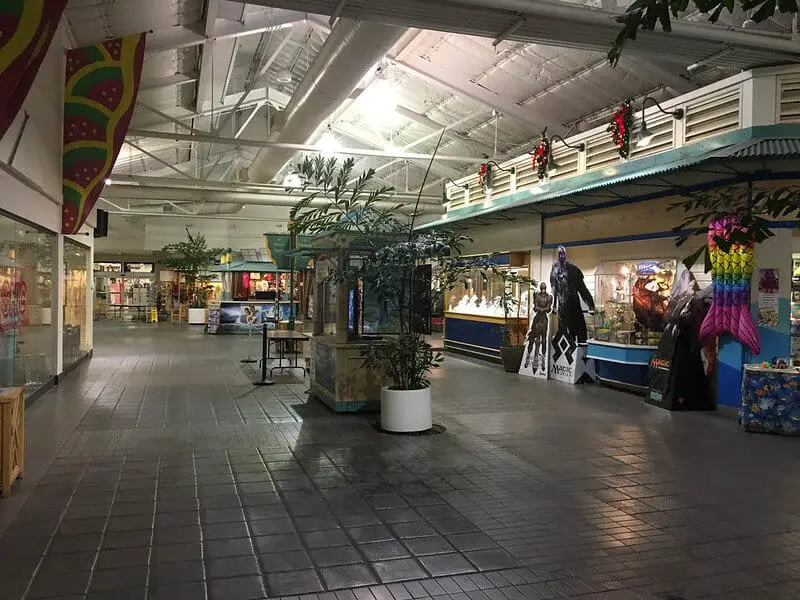 Free weekly hula and ukulele lessons also keep mall patrons thoroughly entertained and informed about Hawaiian culture.
Mall Hours: 10am – 6 PM Each day.
Parking: Free
Featured Events: Events can be found on this page.
Google Maps
Outlets of Maui
Situated on iconic Front Street in the historic town of Lahaina, this outlet shopping venue has over 30 designer brands including Coach, Calvin Klein, and Michael Kors.
Bargain shoppers can take advantage of discounts up to 65% off regular retail pricing as well as other seasonal sales events.
If you're feeling hungry after all that shopping, grab some pizza at the Pi Artisan Pizzeria or treat yourself to a juicy steak at Ruth's Chris Steak house. Both restaurants are located in the plaza.
And while you're there, go ahead and add in a stroll down Front Street or continue your shopping adventure at the chic boutiques and art galleries that line the famous strip.
Mall Hours: 11am – 8pm each day.
Parking: Ample free parking nearby on the streets.
Featured Events: Events can be found here.
Google Maps
Wailea – South Side of Maui Malls
The Shops at Wailea
The Shops at Wailea is an elegant outdoor shopping center mall in Maui with over 70 shops, restaurants, and art galleries.
Nestled in the middle of the Wailea Resort town on Maui's south side, The Shops is known for its luxury stores like Louis Vuitton and Tiffany's and specialty surf shops like Billabong and Honolua Surf Company.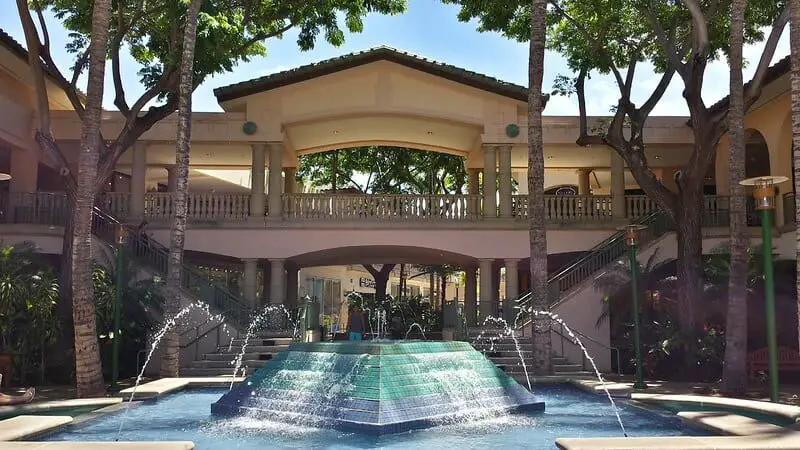 But you can still enjoy a visit to The Shops without having to shell out big bucks for this season's Prada handbag.
Take a walk through the beautiful complex and cool down with a "shave" of ice or grab some last-minute hotel room essentials at the ABC convenience store.
Mall Hours: 10am – 9pm every day.
Parking: Free parking until the end of 2022.
Featured Events: Events can be found on this page.
Google Maps
Final Thoughts
What do you think of this list of where to go shopping in Maui, and the best 6 malls we picked?
Hopefully, all your lingering questions about where to go shopping in Maui have been answered. Feel free to leave a comment and let me know.
---
Whalers Village photo courtesy of CJ Anderson.
Lahaina Cannery Mall photo courtesy of Jon Konrath.
Wailea Shopping Plaza photo courtesy of fat_albert9631.
Queen Ka'ahumanu Center photo courtesy of David Casteel
All used under CC licence.