It's clear from the thousands of people that flock to Hawaii each year that the island life is sweet. The laid-back Aloha lifestyle emphasizes family, friends, and enjoying life – and what better way to enjoy life than by experiencing live music? In this post we're going to dive into the best Hawaii music festivals and highlight what makes them stand out!
Hawaii Music Festivals
Hawaii is home to an array of music festivals, spanning many genres and including several cultural festivals paying homage to ancient Hawaiian customs and traditions. When it comes to music festivals, Hawaii truly has something for everyone – so read on to find a festival that takes your fancy!
Prince Lot Hula Festival
The Prince Lot Hula Festival is much more than just a live music festival. It's a celebration of Hawaiian culture and the age-old tradition of hula that attracts tens of thousands of spectators each year. Locals and visitors come together to watch performances from twelve hula schools selected each year.
Importantly, the event is non-competitive and brings together hula performers, spectators, craftsmen, and other cultural presentations.
Named for the beloved Prince Lot, who ruled Hawaii as King from 1863 to 1872, the festival honors his work in support of Hawaiian culture and its preservation.  
The festival is held at the Moanalua Gardens, a beautiful parkland area with many native Hawaiian plants that once belonged to the Kamehameha family that ruled the Kingdom of Hawaii. Entry to the festival is free, making it the perfect budget-friendly day out for locals or tourists.
Of course, you will want to sample some delicious food from the many vendors selling their wares at the gardens (and maybe pick up a souvenir of the day too!)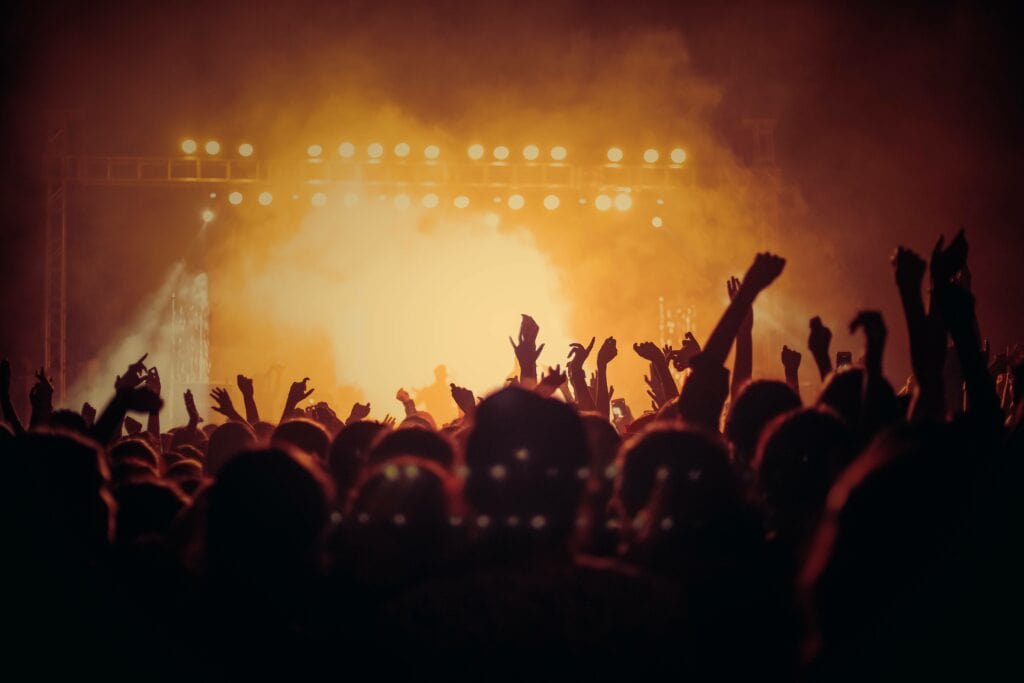 Hawaii International Music Festival
The Hawaii International Music Festival operates slightly differently from most festivals. Each August, the festival is hosted in various locations across Hawaii at different times in the month.
The festival features local and international artists from various genres, covering classical, opera, tango, choir performances, and many more.
What's great about the Hawaii International Live Music Festival is that you can select which concerts you want to go to. Rather than a one-day event with multiple performers in attendance, the various concerts that make up the festival are spread across the month of August.
This makes it easy to simply select the performance (or several performances!) you'd like to see and buy tickets for just those events.
Ukulele Festival Hawaii
If you're looking for a more interactive Hawaiian Music Festival, the Ukulele Festival Hawaii is an excellent option. Not only does this iconic festival feature an impressive lineup of ukulele artists, but it also involves a workshop! The workshops are open to all ages and abilities so anyone can come along and give the ukulele a try.
Each year a theme song is selected for the festival, which will be played as part of the festival and broadcast online. Ukulele Festival supporters are encouraged to learn the song before the festival so they can play and sing along when the festival is broadcasted.
If you're looking for an interactive music festival, Ukulele Festival Hawaii is hard to beat.
Are you a new resident of Hawaii? Why not go along to the Ukulele Festival and check out what the ukulele is all about? There are many ukulele clubs and bands on the various islands, with many offering free classes and workshops.
A fun new hobby like the ukulele might be just what you need to meet people in your new community – and you might even uncover a secret talent!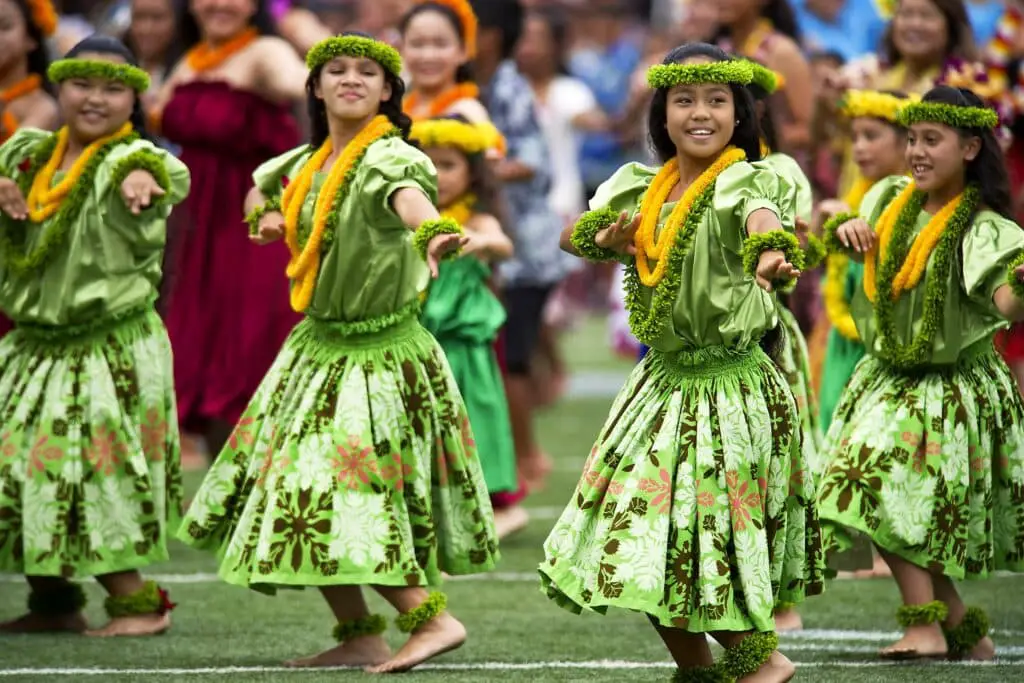 Merrie Monarch Festival
In honor of King David Kalakaua, the Merrie Monarch Festival celebrates Hawaiian live music and culture in its many forms. The 'Merrie Monarch' was  King David's nickname, awarded due to his fun-loving personality.
An avid supporter of the arts, King David encouraged the practice of Hawaiian culture and art forms during his reign, in contrast to the teachings of Christian missionaries at that time. Through dance and music, King David sought to restore Hawaiians' pride in their own culture and reconnect the community with its traditions.
Today's Merrie Monarch festival honors King David's celebration of Hawaiian culture, in a week-long event incorporating several forms of Hawaiian culture. Among the festival, events are a hula competition and shows, a grand parade, and a Hawaiian arts fair.
The Merrie Monarch festival both seeks to entertain tourists and educate locals about Hawaiian culture, all while keeping traditional Hawaiian culture alive. This is an excellent festival to experience traditional Hawaiian culture in its many forms and explore the rich history and traditions of Hawaii's ancient people.
Mayjah Rayjah
Looking for something a little different? Why not check out Hawaii's biggest reggae festival, Mayjah Rayjah? Featuring reggae artists from across the globe, the two-day festival is held in June each year.
The best part about the festival? It's generally held across multiple Hawaiian islands so it's easy to access from wherever you're living or staying.
While minors are welcome at Mayjah Rayjah, they may not be able to get very close to the stage, due to the different sections of the venue. This isn't the most child-friendly venue – so it might be best enjoyed by a group of over 21s only.
If you're looking for a Hawaii music festival to attend with kids, why not check out one of the other family-friendly festivals on this list?
Hawaii Songwriting Festival
Yet another interactive festival, the Hawaii Songwriting Festival seeks to bring together songwriters of all abilities and other music professionals.
The Songwriting Festival is predominately a conference that runs for three days each year, involving workshops, seminars, music sessions, mentoring, and many more opportunities for songwriters to develop their skills.
There is no minimum ability level required to participate in the conference (and many attendees just write songs as a hobby!) so if you have any interest in writing songs, you'll want to check it out. If you love writing songs and are looking to hone your skills, this conference may present the perfect opportunity for a visit to the Aloha State.
The songwriting festival culminates in a performance night featuring several songwriters, both attendees of the conference and guest performers. This concert is usually open to the general public each year and is a great chance to discover new music and local artists. 
Hawaiian Slack Key Guitar Festival
First things first: what's slack key guitar? The genre of slack key guitar is a specific style of guitar music originating in Hawaii. Slack key is characterized by tuning the guitar to sound a chord (which is slightly different than standard guitar tuning) and plucking the strings.
The slack key guitar festival is a celebration of all things slack key guitar, a genre that is uniquely and iconically Hawaiian. 
The festival plays at various locations across the various Hawaiian islands throughout the year. If you're visiting Hawaii, it's worth checking what area the festival will be playing in during your visit.
You won't want to miss the opportunity to experience the iconic Hawaiian slack key guitar, played by artists that are masters of the genre. 
Keen to give slack key guitar a try yourself? The festival incorporates workshops for those looking to try out slack key themselves.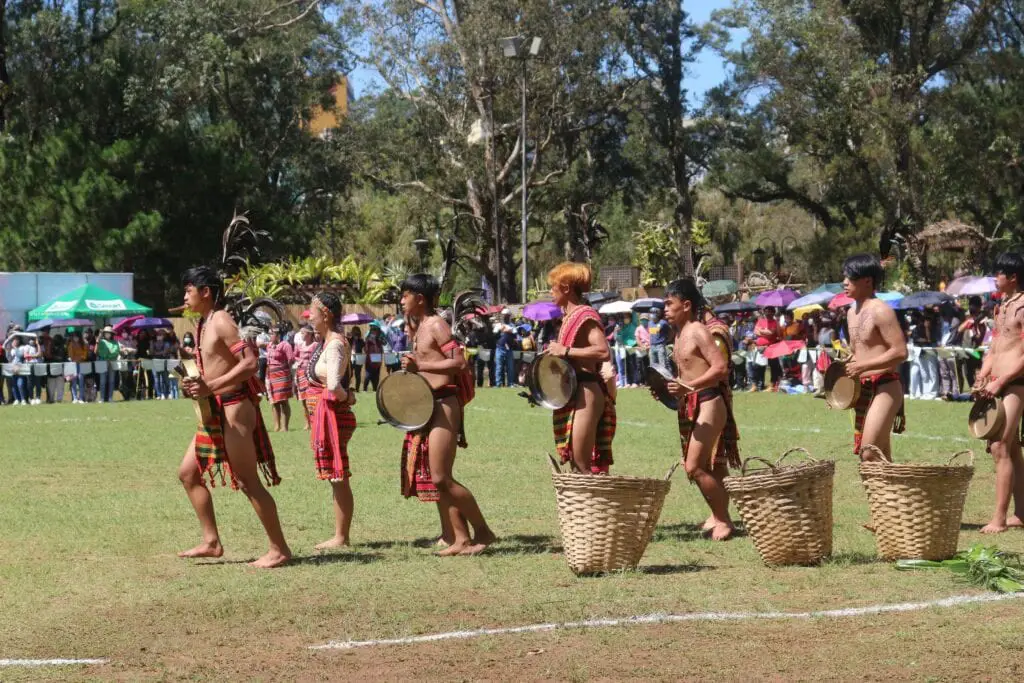 Ka Molokai Makahiki Festival
Last but certainly not least is the Ka Molokai Makahiki Festival held in January each year on the island of Molokai. This festival is actually the practice and preservation of an ancient Hawaiian tradition.
Makahiki was considered to be a time of peace between the ancient Hawaiian tribes that was celebrated through games and competitions. It was traditionally a time to honor the god of agricultural fertility, following the yearly harvest.
Makahiki is still celebrated each year on Molokai, with competitions, games, music, and food. If you are planning to visit Hawaii in January, the Ka Molokai Makahiki Festival is one event you do not want to miss.
This is an excellent festival for all ages and has plenty of opportunities to get kids (and adults!) involved in the various activities offered on the day, all while learning about ancient Hawaiian culture.
Final Thoughts
Hawaiians' love of music and culture shines through in the state's many music festivals. Attending a festival is an excellent way to learn about Hawaiian culture, meet new people in your community and have fun while doing it!
Whichever festival you decide to attend, remember to relax and take it all in with your family and friends in the true Aloha spirit.