Deciding on which of the six major islands in Hawaii to call home is a nice problem to have. They are all beautiful and have something to offer their residents. But each Hawaiian island has its downside, too. For example:
Oahu has the highest job salaries. But it's also the most densely populated.
Maui has relatively low unemployment. But its average price for a condo is much higher than any of the other islands.
The Big Island has the most affordable housing . But it also has the highest unemployment rate.
Kauai has the fewest incidents of crime. But it has suffered from hurricanes more than the other islands.
Lanai's tallest building is just three stories high. But the island doesn't have any Costco warehouse stores for buying cheap groceries.
Although it's a smaller island, Molokai has two newspapers and its own Chamber of Commerce. But it doesn't have a college campus.
Choosing the island that's the best fit for you and your family really depends on which factors are most important to you. Is finding the best-paying job of utmost importance? Are you looking to avoid heavy rainfall? Do you want to live in a quiet, sparsely populated area with lots of undeveloped land to roam? Or is affordable housing your primary concern?
There certainly is a lot to consider. To help you get started, I've compiled a bunch of statistics below on the different islands so you can do some "comparison shopping." (Unless otherwise specified, the source of all statistics is the 2009 State of Hawaii Data Book.)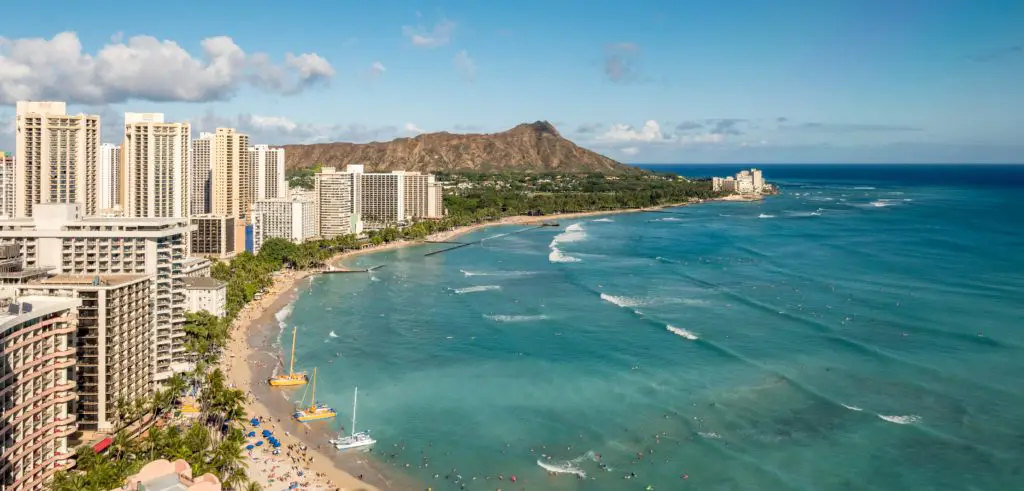 Land Area | Major Cities | Population | Density | Home Prices | Salaries | Unemployment | Crime | Hurricanes | Tsunamis | Earthquakes | Lava Flow | Vog | Climate | Attractions | Costco Stores | Libraries | UH Campuses | Tallest Buildings | Publications | Chambers of Commerce | County Websites
Hawaiian Islands Land Area
| | |
| --- | --- |
| Oahu | 596.7 square miles |
| Maui | 727. 2 square miles |
| Big Island | 4,028.0 square miles |
| Kauai | 552.3 square miles |
| Lanai | 140.5 square miles |
| Molokai | 260.0 square miles |
Major Cities & Towns
| | |
| --- | --- |
| Oahu | Honolulu, Waipahu, Pearl City, Waimalu, Mililani, Kapolei, Kaneohe, Kailua |
| Maui | Kahului, Lahaina, Kihei |
| Big Island | Hilo, Kailua-Kona, Waimea |
| Kauai | Lihue, Kapaa, Kalaheo, Koloa, Kilauea |
| Lanai | Lanai City |
| Molokai | Kaunakakai |
Population, 2009
| | |
| --- | --- |
| Oahu | 907,574 |
| Maui | (Source: Hawaii Tourism Authority) 131,531 |
| Big Island | 177,835 |
| Kauai | 64,529 |
| Lanai | (Source: Hawaii Tourism Authority) 3,193 |
| Molokai | (Source: Hawaii Tourism Authority) 8,000 |
Population Density, 2009
| | |
| --- | --- |
| Oahu | 1,521 people per square mile |
| Maui | 181 people per square mile |
| Big Island | 44 people per square mile |
| Kauai | 117 people per square mile |
| Lanai | 23 people per square mile |
| Molokai | 31 people per square mile |
Hawaiian Island's Median Home Sales Price, 2009
|   | Single Family Home | Condo |
| --- | --- | --- |
| Oahu | $580,000 | $305,000 |
| Maui County (Maui, Lanai, Molokai) | $498,106 | $450,000 |
| Big Island | $278,800 | $275,000 |
| Kauai | $470,000 | $330,000 |
Average Annual Salary, Q1 2010
(Source: Hawaii Workforce Infonet)
| | |
| --- | --- |
| Oahu | $41,444 |
| Maui County (Maui, Lanai, Molokai) | $35,828 |
| Big Island | $34,944 |
| Kauai | $35,932 |
Unemployment
| | |
| --- | --- |
| Oahu | 5.1% |
| Maui County (Maui, Lanai, Molokai) | 7.8% |
| Big Island | 9.5% |
| Kauai | 8.5% |
Crime, 2008
| | | |
| --- | --- | --- |
|   | # Class I Offenses | # Class II Offenses |
| Oahu | 34,356 | 63,656 |
| Maui County (Maui, Lanai, Kauai) | 6,371 | 26,108 |
| Big Island | 5,935 | 17,564 |
| Kauai | 2,792 | 5,922 |
Class I Offenses: Murder, forcible rape, robbery, aggravated assault, burglary, larceny-theft, motor vehicle theft.
Class II Offenses: Other assault, disorderly conduct, DUI, drug abuse violations, embezzlement, forgery & counterfeiting, fraud, gambling, liquor laws, manslaughter by negligence, offenses against family & children, prostitution & commercialized vice, sex offenses, stolen property, vagrancy, vandalism, and weapons offenses. Traffic cases are excluded.)
Major Hurricanes Since 1950
Oahu

1982 (1 death statewide, $234 million damage)

1992 (8 deaths statewide, $1.9 billion damage)

Maui
1986 (0 deaths, $2 million damage)
Big Island

1978

1986 (0 deaths, $2 million damage)

Kauai

1950

1957

1959

1982

1992 (8 deaths statewide, $1.9 billion damage statewide)

Lanai
None
Molokai
None
Fatal Tsunamis Since 1946
Oahu
1946 (159 dead statewide)
Maui
1946 (159 dead statewide)
Big Island

1946 (159 dead statewide)

1960 in Hilo (61 dead)

1975 on southeast shore (2 dead)

Kauai
1946 (159 dead statewide)
Lanai
1946 (159 dead statewide)
Molokai
1946 (159 dead statewide)
Earthquakes Of Richter Magnitude 5.0 Or Higher Since 1838
Oahu

5.3 in 1984

5.0 in 2003

Maui

6.5 in 1871

6.8 in 1938

5.1 in 1986

Big Island

Total of 36 quakes measuring 5.0+ since 1838.

Strongest ones since 1975:

7.2 in 1975

6.7 in 1983

6.7 in 2006

Kauai
None
Lanai
None
Molokai
6.5 in 1871
Lava Flow Coverage Of Major Volcanic Eruptions Since 1802
Oahu
None
Maui
None
Big Island

Mauna Loa:

112 sq km in 1950

14 sq km in 1975

48 sq km in 1984

Kilauea:

50 sq km in 1969

46 sq km in 1972

122 sq km in 1983

Kauai
None
Lanai
None
Molokai
None
Volcanic Smog
(Source: U.S. Geological Survey)
| | |
| --- | --- |
| Oahu | None |
| Maui | None |
| Big Island | The leeward Kona coast has a near-constant haze of vog, a smog formed from volcanic emissions. The sulfur dioxide in vog can irritate skin, eyes, nose, and throat, triggering asthma symptoms in those with pre-existing respiratory conditions. Depending on the wind currents, other areas of the Big Island can be affected by vog, too. For more info, check out these FAQs on vog. |
| Kauai | None |
| Lanai | None |
| Molokai | None |
Average Temperature (Fahrenheit) & Annual Rainfall
 
City
Coldest Month
Hottest Month
Rainfall
Oahu
Honolulu, Airport
Honolulu, Manoa
Kaneohe
Kahuku
Kapolei (Source: Weather.com)
70
67
72
69
71
84
80
83
81
79

20 inches

152 inches

55 inches

41 inches

23 inches

Maui
Hana
Kihei
Kahului
Lahaina
67
71
67
66
81
78
84
84

81 inches

15 inches

19 inches

14 inches

Big Island

Hilo

Naalehu

Kailua-Kona (Weather.com)

Puako

Waimea (Weather.com)

66

66

74

68

72

81

80

80

84

80

129 inches
48 inches
11 inches
9 inches
21 inches
Kauai

Kilauea

Lihue

Poipu

Kekaha

67

70

70

65

80

81

83

85

68 inches

41 inches

34 inches

21 inches

Lanai
Lanai City
62
75
35 inches
Molokai
Molokai Airport
68
81
26 inches
Number Of Attractions
| | | | | |
| --- | --- | --- | --- | --- |
|   | Museums & Other Cultural Attractions | National Parks, Historic Trails, Historic Sites & Memorials | State Parks & Historic Sites | County Parks |
| Oahu | 31 | 1 | 30 | 288 |
| Maui | 13 | 1 | 8 | 112 |
| Big Island | 17 | 5 | 19 | 126 |
| Kauai | 5 | 0 | 10 | 67 |
| Lanai | 0 | 0 | 0 | 4 |
| Molokai | 2 | 1 | 2 | 13 |
Costco Store Locations
(Source: Costco.com)
Oahu

Kapolei

Waipahu

Honolulu (Iwilei)

Honolulu (Hawaii Kai)

Maui
Kahului
Big Island
Kailua-Kona
Kauai
Lihue
Lanai
No locations
Molokai
No locations
Number Of Public Libraries
| | |
| --- | --- |
| Oahu | 24 |
| Maui | 6 |
| Big Island | 13 |
| Kauai | 6 |
| Lanai | 1 |
| Molokai | 1 |
University Of Hawaii Campuses
(Source: Hawaii.edu)
 
Universities
Community Colleges

Oahu

Honolulu

Pearl City

Honolulu (Diamond Head)

Honolulu (Airport)

Pearl City

Kaneohe

Maui
None
Kahului
Big Island
Hilo
Hilo
Kauai
None
Lihue
Lanai
None
None
Molokai
None
None
Tallest Buildings
| | | |
| --- | --- | --- |
|   | Building | Height |
| Oahu | First Hawaiian Center | 438 feet |
| Maui | The Whaler | 170 feet |
| Big Island | Bayshore Towers | 135 feet |
| Kauai | Marriott Resort & Beach Club | 107 feet |
| Lanai | Four Seasons Manele Bay Hotel | 48 feet |
| Molokai | Molokai Light Station | 138 feet |
Publications
Oahu

Honolulu Weekly

Honolulu Magazine

Maui

Maui News

Lahaina News

Maui Weekly

Big Island
Hawaii Tribune-Herald
West Hawaii Today
Kauai
The Garden Island
Lanai
None are currently available online
Molokai
Molokai Advertiser-News
The Molokai Dispatch
Chambers Of Commerce
Oahu
Chamber of Commerce of Hawaii
Kailua Chamber of Commerce
North Shore Chamber of Commerce
Maui
Maui Chamber of Commerce
Big Island
Hawaii Island Chamber of Commerce
Kona-Kohala Chamber of Commerce
Kauai
Kauai Chamber of Commerce
Lanai
None are currently available online
Molokai
Molokai Chamber of Commerce
County Websites
| | |
| --- | --- |
| Oahu | City and County of Honolulu |
| Maui | County of Maui |
| Big Island | County of Hawaii |
| Kauai | County of Kauai |
| Lanai | County of Maui |
| Molokai | County of Maui |