In typical Hawaiian style, the "business casual Hawaii" dress code for women is relaxed and at times quite vague. After diving into the research for the male readers of How To Live In Hawaii, I'm happy to report that business-attire guidelines for men in Hawaii are more spelled-out and straightforward.
This post will take the business casual Hawaii dress code and outline some examples of clothes that are appropriate for different situations.
Types of work requiring different dress codes in Hawaii
Depending on the type of work you do and how conservative or liberal your employer is, there are always going to be different dress codes, as detailed below.
For instance, shipyard workers wear T-shirts and jeans rather than aloha shirts and dress slacks, due to the high level of physical activity involved in their job.
A graphic designer at a trendy agency could probably wear stylish, dark-wash jeans with clean, retro-style sneakers instead of the typical khakis-with-oxfords ensemble.
A lawyer might be able to wear a tasteful aloha shirt to the office, but will probably need to switch to a suit and tie when appearing in court.
But for the sake of establishing baseline guidelines, here's what is typically meant by the terms "business casual hawaii," "business formal," and "aloha attire" (or "aloha wear").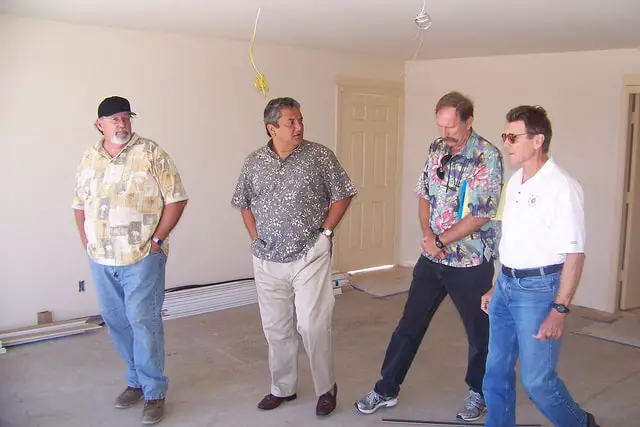 Hawaii County Mayor Billy Kenoi is a perfect example of Hawaii's "business casual" dress code in his tasteful aloha shirt, khaki pants, and loafers. (Photo credit: Hawaii County)
What does "Business casual Hawaii" for men mean?
Due to Hawaii's year-round warm climate, most workplaces in Hawaii allow "business casual" attire, because it doesn't require long sleeves.
It's also the dress code you'll most likely want to follow when going to a job interview in Hawaii.
The standard "business casual" uniform is:
Button-down shirt (usually short-sleeved, but long sleeves are OK, too, if you prefer). Good-quality aloha shirts in muted colors and subtle patterns are popular. Depending on the workplace, good-quality polo shirts might be acceptable, too. But save T-shirts and "loud" aloha shirts for your days off.
Khaki pants or dress slacks — this depends on your workplace.
Covered shoes (oxfords, loafers) with socks. No athletic shoes, slippers (flip-flops), or other sandals.
If you need to dress a little more formally during certain parts of your workday (i.e. during a meeting with important clients), it is acceptable to put on a suit jacket or sports coat over an aloha shirt, but skip the necktie.
If you're going to a job interview, wear a tasteful aloha shirt with dress slacks so you look "local." The exception to this rule is if you're interviewing for a job where you'll sometimes be expected to dress more formally at work, like in law or finance — then you should probably wear "business formal" attire (see below) to the interview.
Hawaiian shirts are very popular and one company that stands out in the space is Bermies. Readers get 10% off using the code Summer_10. Enjoy! 😄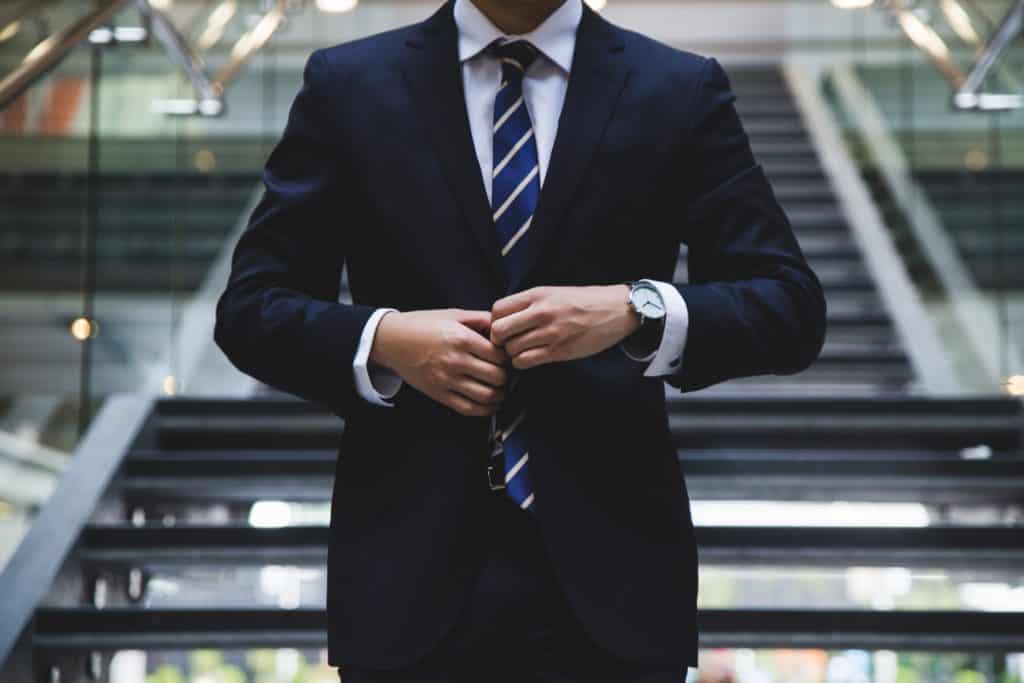 What does "Business formal" for men mean in Hawaii?
The more conservative "business formal" dress code is not common in Hawaii, even among top-level executives.
But some employers in certain professions — law, finance, etc. — may still expect it on certain occasions, such as in a job inteview, meetings with important clients, or courtroom appearances. The typical "business formal" outfit for men in Hawaii is:
Necktie
Long-sleeved button-down shirt with a collar. No aloha shirts, not even long-sleeved ones –  they don't look right with the required necktie.
Dress slacks.
Possibly a suit jacket or sports coat — this depends on the occasion.
Aloha shirts: Which shirts to buy and which to avoid
In Hawaii, aloha shirts are a key component of men's businesswear.
They are not considered tacky or unprofessional but are in fact worn proudly by most businessmen. It's also common to wear an aloha shirt with dress pants instead of a suit or tuxedo to weddings, parties, and other special occasions.
If you receive an invitation specifying that "aloha attire" or "aloha wear" should be worn, that's what is meant.
These aloha shirts that are worn to work or special events, however, are not the tacky ones that you see tourists wearing.
They are an entirely different breed of aloha shirt, made of good-quality fabrics in tasteful designs, and they're not cheap — they retail for around $100 each.
But you can find them for less during sales at stores like Macy's and Nordstrom and at discount stores like Ross. If you're looking for something modern with a nice fit, check out BERMIES, they're about $68 each.
Here's what to look for when shopping for an aloha shirt:
Good-quality fabric like cotton, cotton-blend, linen, or silk.
For work: Subtle patterns created with reverse printing (the fabric looks "inside out"), muted colors, small repeated images, woven-in textures, etc. Outside of work: It's OK to go with bolder (but still tasteful) patterns and colors.
Patterns that incorporate traditional or nature-inspired images, like Polynesian motifs, leaves, flowers, ocean waves, canoes, palm trees, etc.
Brands like BERMIES, Reyn Spooner, Tori Richard, Kahala, Tommy Bahama, Rix, and Sig Zane.
What to avoid:
Cheap, chintzy fabric, like 100% polyester.
"Loud" patterns with competing bright colors.
Patterns with tacky images (e.g., bikini-clad women, cocktails, dice, playing cards, etc.)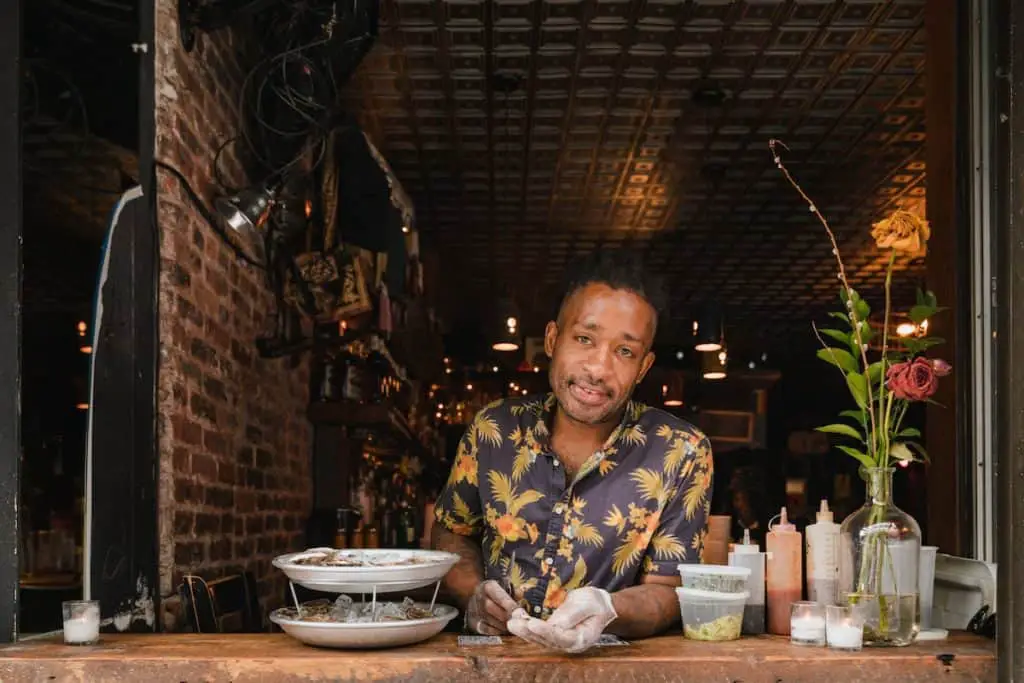 How to wear an aloha shirt
An aloha shirt is usually worn without any additional layer. But if the occasion calls for it, a suit jacket or sports coat may be worn over it. However, neckties should never be worn with an aloha shirt — the two just don't go together.
Undershirts are not usually worn with aloha shirts, but it's OK to do so if that's your preference. At work, you'll want to make sure your aloha shirt is buttoned all the way up except for the top button or two. Outside of work, it's fine to unbutton it further if you like.
Aloha shirts are designed to be worn untucked, and many men wear them this way, even in the workplace. Still, some men prefer to tuck their aloha shirt in their pants because they like the way it looks with a nice belt, or they want to project a more formal image.
Either way is fine — follow your personal preference or instinct.
What you wear on the bottom half of your body depends on where you're going to wear your aloha shirt:
At work: Khaki pants or dress slacks with a nice pair of oxfords or loafers. Socks required.
At a formal event, like a wedding: Dress slacks with a nice pair of oxfords, loafers, slippers, or other sandals.
At a semi-formal event, like a party: Dress slacks, khaki pants, a nice pair of jeans, or dress shorts (think tailored bermudas, not cargo shorts) with a nice pair of oxfords, loafers, slippers, sandals, or sneakers.
At a casual event, like a beach barbecue: Shorts or swim trunks with slippers, sandals, sneakers, or athletic shoes. If you're going to be walking in sand, it's best to wear slippers.