Swimming with dolphins will make your Hawaiian vacation unforgettable. In the coats waters of Hawaiian archipelago you can expect to meet eight species of dolphins among which there are bottlenose dolphin (Afalina) and long-beaked dolphin being the most dispersed species.
Swimming with dolphins is one of the most wanted occupations of any traveler, visiting Hawaii. There are several companies on Oahu and on the Big Island offering their clients to try offshore swimming with dolphins.
But there are much more offers to only watching the dolphins. These tours also offer snorkeling, diving and other underwater entertainments.
Swim with dolphins in the ocean
Dolphins are protected by the state according to the Marine Mammal Protection Act, which bans nearing these animals closer than 45 meters. However, this does not mean that dolphins are prohibits to swim closer to you. Most of the dolphins are very friendly and curious creatures. They may near you just for the fun of it. But if the dolphins do not near you to close, then you are prohibited to swim closer to them to hug or touch and pet them.
Some of the companies guarantees swimming with dolphins: this means that if during the tour you will not manage to swim with dolphins, then the company will offer you another tour for free as long as you will manage to enjoy swimming with these magnificent mammals.
During winter months whales come back to the Hawaiian waters. That is why you have a chance to see humpback whales apart from dolphins.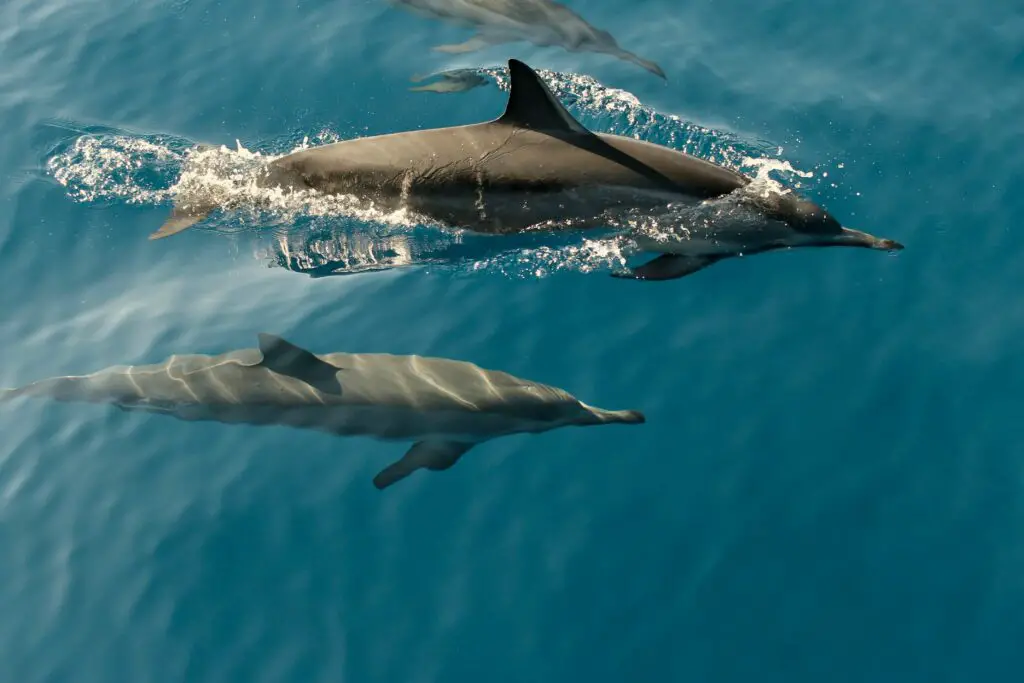 Swimming with dolphins in the Sea Life Park
If you want to make your first experience of swimming with dolphins unforgettable and full of emotions, then Sea Life Park on Oahu island is your best choice. You will be offered various entertaining programs, during which you will swim, hug and even kiss dolphins. During your park visit you will learn many new facts about dolphins, their habits and, what is more, you will enjoy swimming with these creatures.
In the Sea Life Part you will meet not only dolphins, but other Hawaiian sea animals as sea lions, sea turtles, penguins and other animals. The park offers a combined tour including swimming with dolphins and Luau party with Hawaiian feast on the premises of park.
Educational programs
Kahala Hotel is one of six retreats for bottle-nosed dolphins. There is a center of investigation and research of sea life «Dolphin Quest». The coaches of the center offer educational classes every day. During classes you will learn more about dolphins as well as you will be able to swim with the creatures. The educational program of the center is a unique chance for you to learn that dolphins are one of the smartest creatures. The hotel holds free entertaining events with dolphins every day at 3p.m. During the shows you will watch the dolphins performing their skills: jumping, playing and tricking.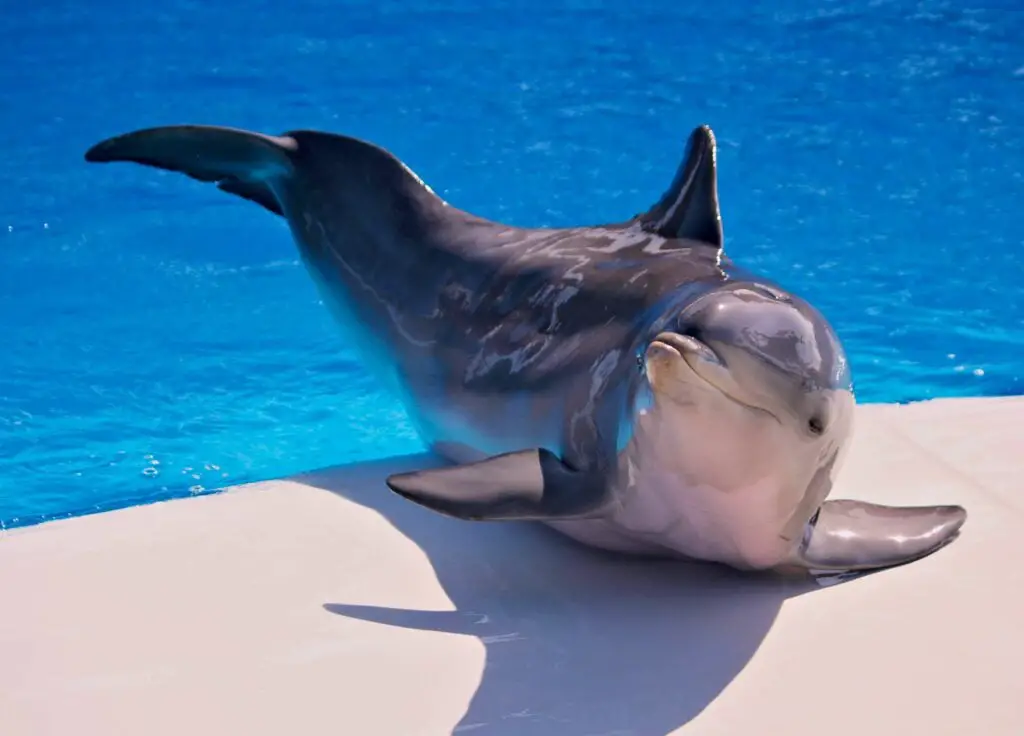 Bottle-nosed dolphins
Bottle-nosed dolphin is one of the most dispersed species of dolphins inhabiting warm waters. The name «bottle-nosed» comes from a specific form of jaws of the dolphin. Their natural coloring is gray. The upper part of the back in the area of dorsal fin is darker and the bottom part is light-gray or white. The size of an adult dolphin is up to 2-4 meters. Males are longer than females. An average weight of a dolphin is about 200-300kg.
Dolphins swim at speed of 5-11km/h, however in certain cases they are able to develop a speed of swimming up to 35km/h. But they are able to keep such a speed for a rather short period of time. Dolphin is breathing through a blowhole, which is located on the head of a creature. That is why each dolphin needs to get up to the sea surface each 5-8 minutes.
Afalinas dolphins live in small stocks up to 12 species. These are commonly females and calves. Males commonly form small groups of 2-3 species and join females only during oestrus. Sometimes the stocks join up and form large groups of dolphins.
Afalina is considered to be a very friendly and curious creature. They often swim close to people to get acquainted with them. There are many cases when dolphins rescued injured people in the ocean. That is why afalina is considered to be the man's best friend in the sea.
Hawaiian islands are the best location on earth to meet and get acquainted with these amazing creatures.