Horse riding
Horse riding tours are extremely popular entertainment in Hawaii for those guests, who loves nature and horses. You will find many companies organizing horse riding tours in Hawaii: Oahu, Maui, Kauai and on the Big Island. On average, a horse riding tour lasts at least 1 hour. But there are tours taking 2-3 hours. Such trips will suite as beginning tourists so experienced riders.
Horse riding is an unforgettable way to explore the islands. Commonly each tour takes a small group of tourists, for all participants to be able to enjoy the nature and sights. The group goes with an experienced guide, who explains the route. In the most scenic locations the group stops for rest. This is a unique chance to capture the wildest moments of Hawaiian life.
Before booking a horse riding tour, please, make sure that there are no limitations. Some companies limit the age, weight and height of tourists who can take a horse riding tour. You must know about the limitations in advance. Commonly the companies recommend having protecting footwear and long trousers on. Some companies offer water, snacks or lunch during a tour. If a booked tour does not offer food and drinks, then make sure that you have plenty of water.
All horses are friendly and well trained. That is why you must not be afraid of contact with these majestic animals, especially if this is the first horse riding experience. Before setting out your guide will instruct you how to control a horse. You can also take several tutorials before a tour.
Horse riding tours in Oahu island
The most stunning location of this island is Kuoloa Ranch, located to the eastern coast of Oahu. Here you will enjoy not only the coastal scapes but you will see familiar landscapes from such films as "Jurassic Park", "Godzilla", "Windtalkers" and "50 First Kisses".
Some companies organize tours to the northern part of the island where you can enjoy the sights of Kaena Point (the north-western end of the island), Sunset Beach, Banzai Pipeline and Turtle Bay.
You will discover ranches all over the island, that is why mentioned above destinations are not the only ones you can visit by horse. Some companies offer free (or very cheap) pickup service from Waikiki to the stables.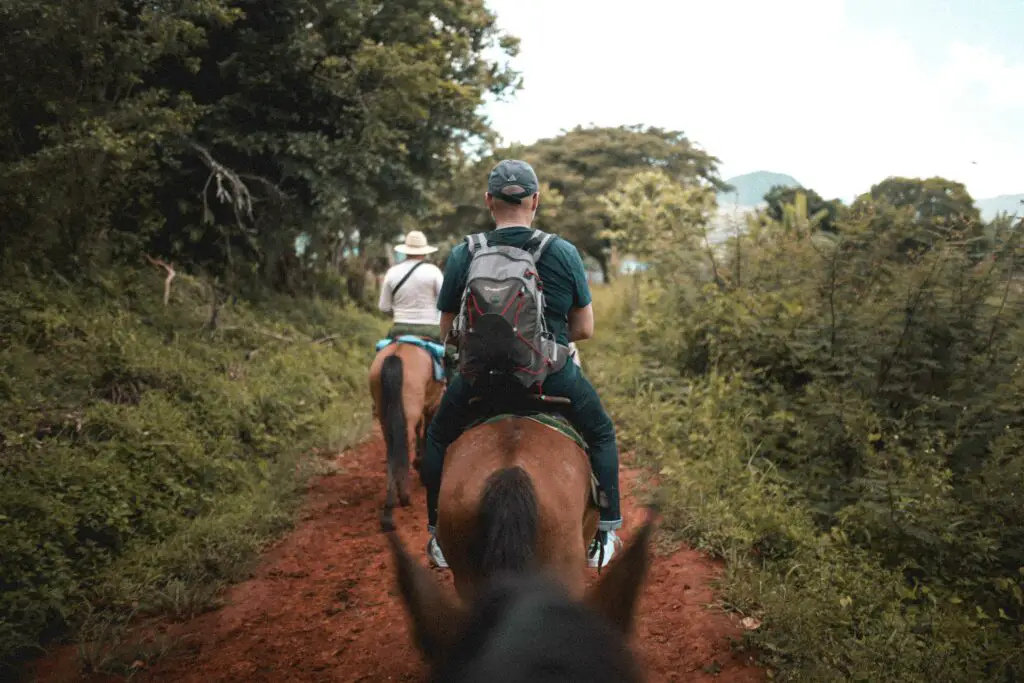 Horse riding tours on Maui island
The most beautiful destination for horse riding trip on the Maui island is the mountain Haleakala. There are many companies organizing horse riding tours.
Haleakala is the biggest silent volcano in the world. That is why this is the most wanted destination for all tourists visiting Maui. During the horse riding trip you will enjoy local nature which you will not see anywhere else in the world. This is the only place on earth where you can see a famous flower named Silver Sword. Moreover, the guide will tell you about the history of the island, its flora and fauna as well as volcanoes. Do not hesitate to ask questions as guides are always eager to tell you more about the destinations.
Another interesting destination to visit is Kipahulu — the ancient land with its own legends and historical events. You will see the places of legendary battles and you will learn more about culture and history of ancient native Hawaiian. Hawaiian cowboys, paniolo, can also organize horse riding tours running through jungles for you.
Horse riding tours on Kauai island
The beauty of this island is insatiable. And there are many ways to explore the nature beauty of the island. Horse riding tour is only one of the ways. Your route will pass through jungles, waterfalls and hills.
The most popular routes start at the city of Princeville. The landscapes are just breathtaking and you will surely love the sights of ocean and lands. Reef Anini, the biggest Hawaiian reed, Kilauea lighthouse and bird reservations are the recommended places to visit.
Horse riding tours in the Big Island
Commonly horse riding tours run through the northern part of the island. The Waipio valley is the most popular destination of riding tours. Your guide will take you to the places which are unreachable in any other way: neither on foot nor by car. And these places are really worth seeing: the landscapes of these places are just stunning — tropical greenery, cascade waterfalls, sharp cliffs and taro fields.
In approximately 115km from the valley you will find Kona coast. Some companies are organizing tours to Kealakekua Bay and Captain Cook memorial.