The big, blue Pacific can be the venue for your next gathering.
Dolphins can always sense a party. Skimming the waves off the bow of Star of Honolulu, they escort the ship and its guests toward the magnificent Waikïkï sunset. As the stars come out, the festivities flow and the world's most famous shoreline puts on its own dramatic show of sparkling lights.
Casting off for an ocean-bound adventure is a sure way to put "memorable" in any group event and to experience the natural beauty of Hawaii: the glittering blue Pacific, the breathtaking coastlines, the awesome marine life, and the hidden coves, beaches and swimming spots that can't be reached any other way. Hawaii offers a myriad of ocean possibilities, be it a formal dinner cruise or a casual snorkeling outing.
"Our passengers react completely differently at sea," asserts Mitzi Hirasawa, vice president of sales and marketing for Paradise Cruise, which operates Star of Honolulu. "They become more relaxed and open up much quicker than being in an enclosed banquet room. Being immersed in our island paradise is what our clients dream of—and we're here to provide the means."
If glitz and glamour are what you're seeking, Star of Honolulu can oblige. Hawai'i's largest sightseeing and dinner cruise vessel, it can accommodate groups of as many as 1,500 guests or as few as 30. The state-of-the-art ship boasts four decks with four ballrooms and two private lounges where groups can be tended to by their own staff and entertainers. Once, Paradise Cruise converted the entire ship for a seven-hour extravaganza for an incentive software group from Japan.
For the first two hours, the group was entertained with hula and song while dining on lobster and filet mignon in a private dining room. After the other passengers had disembarked, Star of Honolulu offered entertainment on three levels just for the group. On the second deck, some picked up a microphone for karaoke; on the third deck, an Elvis impersonator belted out "Blue Hawaii" and other favorites; and on the top deck, live jazz was in the limelight.
"Our ship's layout and capacity appealed to the organizers whose goal was to keep their group together in a private and exclusive environment while satisfying members across age groups, from young to old," Hirasawa says. "Instead of having their people scatter in Waikïkï after the dinner cruise for additional entertainment, they felt it was ideal to provide an entire ship of private entertainment choices."
Areas of Star of Honolulu were recently renovated in a classy art deco style. Vibrant images of butterfly fish and plumerias brighten the stairways, large hand-painted murals of Hawaii adorn the ballrooms and original artwork hangs throughout the vessel. You'll find plush carpet onboard and even a powder room decked out in marble. Entering the Super Nova deck is like stepping into an exclusive private club. This top level is adorned in elegant blues and ivories, and sparkles with chrome furniture and bronze statues.
A gourmet repast is served by white-gloved waiters in crisp nautical uniforms. With its own kitchen preparing meals for more than 400,000 passengers a year, food—good food—ranks among Star of Honolulu's assets. "We offer variations, from appetizers and Hawaiian buffets to whole lobster dinners and seven-course French-style dinners," Hirasawa notes. Paradise Cruise also operates the smaller Starlet, which offers a more casual cruising experience for up to 340 people. Sunset dinner cruises are available as well as daytime trips, when guests can take advantage of the boat's water slide and giant trampoline.
Also playing the waters off famed Waikïkï is Navatek I. Promoted as the "smoothest ride on the island" because of its twin-hull SWATH (Small Waterplane Area Twin Hull) technology, it's a great option for those who usually shun the seas because they're prone to motion sickness. The sleek vessel offers two spacious dining salons—decorated in red and gold on the upper deck and blue and gold downstairs. Six observation decks provide the perfect vantage spots for admiring the sunset.
Navatek I's dinner cruise is the only one that takes guests around Diamond Head to the ritzy "Gold Coast" of Kähala where you can see streetlights stretching up steep ridges, mimicking the brilliant flows of lava that created the Islands. Spinner dolphins often accompany the boat, cavorting in the waves and catching fish attracted by the lights. As guests savor lobster and steak, they are entertained by slack key guitar music, Hawaiian song and dance, and the flash of hula skirts.
"I think for many visitors it is a very unique experience," says Loreen Matsushima, director of public relations and advertising for Atlantis Adventures, which operates Navatek I. "You can go to a restaurant any time, but here you've got this incredible moving view."
While the sun is shining, Navatek I is also the ideal place to enjoy one of the Aloha State's most awesome attractions—the humpback whales that migrate thousands of miles from the frigid North Pacific every winter to mate and give birth in Hawai'i's warm waters. Most seafaring companies dedicate cruises to the pursuit of whale watching from December through April. Because of its SWATH technology, the Navatek I is able to venture well into the humpbacks' sanctuary.
"Since we go farther than the other boats, we believe we see more whales than they do," says Paul Dyson, general manager of Atlantis Cruises. "In fact, we see whales approximately 95 percent of the time."
Some clients combine working cruises with whale watching; Dyson has seen meetings interrupted by whales jumping outside the boat. Despite the distraction, he claims it creates an atmosphere where more work actually gets done. "People are more open to presentations when they're away from the stodgy city," he says.
Perhaps one of the most exciting, though rare, ways to see the whales is onboard an Atlantis submarine. It's a chance encounter, but one that will never be forgotten. The submarines—which operate out of O'ahu, Maui and the Big Island—take passengers 100 feet below the waves and into the whales' extraordinary world.
"Probably the most memorable encounter, and one that the Atlantis crew still talks about today, occurred in March 1993 (off Lahaina in Maui), when a single sub-adult humpback whale approached the sub and peered in at all of the passengers," says Jim Walsh, general manager of Atlantis on Maui. "The whale was very curious and stayed alongside the sub for about 45 minutes."
Atlantis typically records about 10 humpback sightings per season, but even when whales aren't swimming nearby, a dive is a singular experience. Available for group charters, its fleet is comprised of the world's most technologically advanced passenger submarines, which take visitors to the bottom of the ocean in spacious, air-conditioned comfort. Two rows of seats face large portholes so everyone gets a front-row view as the tour unveils a fascinating world of reefs, sunken airplanes, shipwrecks and spectacular marine life.
More than 30 percent of Hawaii's underwater species cannot be seen anywhere else in the world. Submarine passengers can marvel at sharks, eels, eagle rays and the endangered honu, green sea turtles. There are beautiful clouds of butterfly fish and yellow tangs and, of course, there is the fish whose name is almost as long as itself: the humuhumunukunukuäpua'a or reef triggerfish.
Adventures at sea also beckon off the Neighbor Islands. Trilogy Excursions sails its sleek catamarans in what Captain Randy Coon calls "the golden triangle"—the protected waters between Maui, Molokai and Länai—offering activities ranging from scuba and snorkeling to outrigger canoe paddling and dolphin and whale watches.
"We're not doing thrill rides, but what we are trying to do is create something authentic, and it's thrilling in a very real sense," Coon says. He and his brother, Jim (who's also a captain), were captivated by the Islands and two of the local wähine (girls) when they arrived on a round-the-world expedition 30 years ago in the first Trilogy vessel. They stayed, married their sweethearts, and have since designed and built the largest, most-modern fleet of sailing cats in Hawai'i.
Their six vessels were specifically designed with Island conditions in mind to keep passengers safe, comfortable and dry. The catamarans feature large galleys, covered cabins and cushioned seating as well as "sea steps" for easy access into the water.
"The catamaran design is perfect for this environment because it's stable, it's wide, and it allows people to spread out and get their fair share of the sunshine," Coon notes.
Some remarkable things happen when groups set out to sea. Outside the four walls of offices and meeting rooms, new bonds are forged and people start to think outside the box. Trilogy's sales manager, Mona Franklin Cole, has seen this happen many times. "Everyone's in their bathing suits, right?" she says. "So they've definitely broken down some boundaries."
On Läna'i, Trilogy entertains guests at its exclusive beachside pavilion, which it can transform for festive theme parties. For example, guests can don straw hats and palaka (checkered) bandannas for the Paniolo (Cowboy) Roundup, which honors Hawai'i's cowpokes with slack key guitar music, barefoot line dancing and a hearty buffet, including hamburgers, hot dogs and pineapple honey-glazed chicken grilled over a barbecue fired by fragrant kiawe (algaroba) wood.
The Navigators of the Pacific party spotlights the ancient Polynesian voyagers to Hawai'i and the 18th century European explorers who charted the Pacific. Guests are greeted with a European captain's hat or a sarong and lavalava, then invited to participate in a sea chantey sing-along and an outrigger canoe survival game before indulging in a buffet of beef brochettes, chicken satay, poi, fresh salad with shrimp and Mom Coon's homemade dressing, and made-in-Hawai'i mango and coconut ice cream.
"Trilogy is a whole other experience," says Kimo Jenkins, operations manager of destination management company Island Partners Hawai'i. "We have a saying, 'Maui 'nö ka 'oi,' Maui is the best. Well, Trilogy is Maui's nö ka 'oi."
Jenkins still raves about the time Trilogy pulled out the stops for ERA Real Estate's 100 guests. As their catamarans sailed into Läna'i's Hulopo'e Bay, the group received a rousing welcome from chanting paddlers wreathed in maile and kukui nut leis. They then witnessed a lone figure plunge more than 50 feet from the legendary Pu'u Pehe rock into the ocean. Long ago, lele kawa (daring cliff dives) were tests of bravery for Hawaiian warriors.
Then guests plunged into the action themselves, racing outrigger canoes, snorkeling, playing beach volleyball and eating shave ice made for them right on the beach.
On Kaua'i, Captain Andy Evans relishes his own corner of paradise: Näpali, one of the most breathtaking coasts on this planet. This northwestern shore of Kauai, oldest of the main Hawaiian islands, has been carved by millions of years of rain into sharply fluted cliffs.
"We see spectacular valleys and waterfalls cascading down the cliffs," Evans says. "It's so incredibly beautiful and dramatic, it's surreal, like Walt Disney created it."
One of his favorite snorkeling spots is the vast reef at Nu'alolo Kai. Embraced by massive sea cliffs, the area was inhabited by Hawaiians from 1380 to 1919. Its snorkeling ground, accessible only by sea, boasts abundant schools of bright tropical fish and frequent sightings of green sea turtles.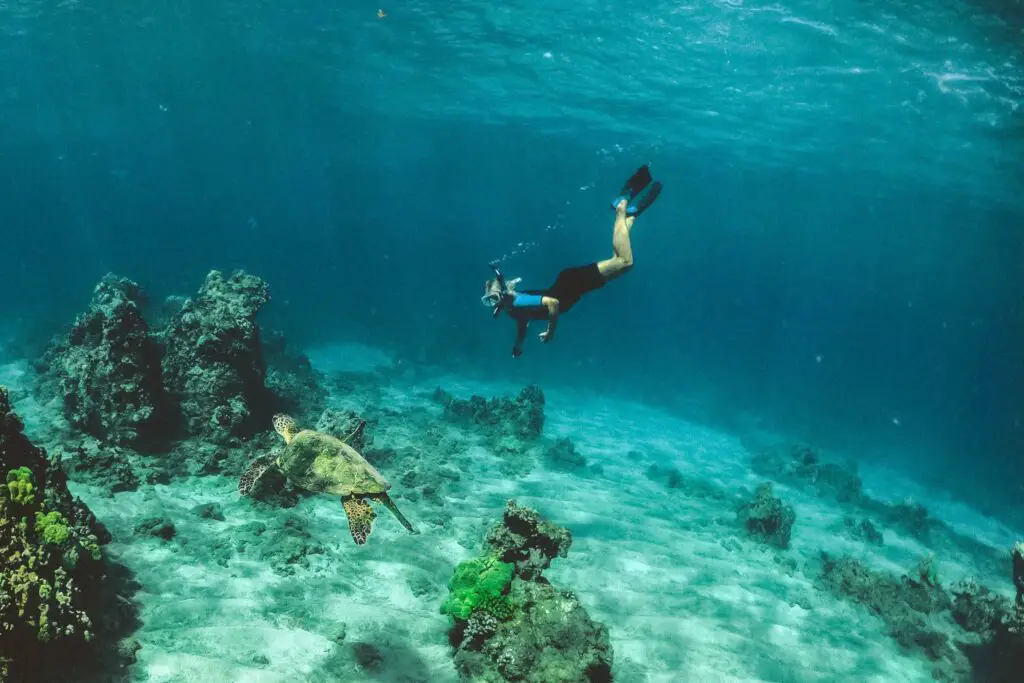 When Capt. Andy's Sailing Adventures isn't cruising along Näpali during the summer months, it offers whale-watching and snorkeling expeditions off Kauai's southeastern shore. On the company's two luxury catamarans, 'Akiola and Spirit of Kaua'i, guests get the experience of sailing with friends—and doing it in style.
"The catamarans have sexy curves; they're not just straight and flat," Evans says. "They flaunt the finish of a luxury car." The vessels' large, shaded cabins are trimmed with teak. There are comfortable cushioned seats, freshwater showers, and a "stairway to the sea" so it's easy to get into and out of the water. Evans also prides himself on the quality of the boats' gear, which includes masks with corrective lenses.
Standard onboard dining with Capt. Andy's ranges from püpü (appetizers) to buffet dinners, but the company also can go gourmet. Last year, it rolled out a six-course feast, complete with silverware and linens, during an evening cruise for a group of 20. An onboard chef and three servers impeccably dressed in white presented delicacies such as lemongrass citrus miso-glazed scallops, lobster, grilled lamb chops with cabernet demi-glace and pohä-berry chutney, and a finale of macadamia nut brittle with a passionfruit flan and tropical fruits with a kiawe honey crème fraîche.
Through his sister company, Capt. Zodiac, Evans offers wet-and-wild raft adventures that take you under waterfalls and into magnificent sea caves. He has permission to land the inflatable rigid-hull Zodiacs on a pristine stretch of sand at Nu'alolo Kai. There, visitors can explore the remains of an ancient Hawaiian fishing village, including homesites, canoe hale (sheds), burial grounds, a taro patch, a stone-lined freshwater well, a three-level heiau (ancient place of worship) and work areas believed to be used in ancient times for making fishhooks and other tools and equipment.
According to Evans, these work areas look like homesites—rock platforms with the remains of low stone walls—but what sets them apart are the nuggets of shell and wood strewn nearby. "It's one of the richest archaeological sites in Hawaii," Evans says. "You can see wood chips that were cut from the insides of canoes and shell fragments from fishhooks. It's pretty eerie."
Later, the crew spreads white tablecloths on the beach for a gourmet picnic lunch of pülehu (broiled) beef, pineapple chicken, kaffir lime and lemon rice pilaf, and salad perked up with papaya seed dressing.
On the Big Island, Fair Wind II sails to another pristine destination. "Kealakekua Bay—you can't go wrong," maintains Marie Saplan, director of sales and marketing for Fair Wind Cruises. "The bay is phenomenal. You can't get there by car so there is that exclusive feel to it. It's a natural conservation area and it's spectacularly beautiful. The water is crystal clear and calm—it's like swimming in an aquarium with all the colorful tropical fish."
Kealakekua also is a historical treasure. The site of an ancient village, it is where the European discoverer of the Hawaiian Islands, British Captain James Cook, lost his life. Fair Wind uses one of just two big-boat mooring sites in the bay and it manages the other, so guests can be sure they won't have to battle crowds.
The owners custom-designed Fair Wind II to ensure a pleasant ride. There is ample deck space on the sailing catamaran for sun-seekers as well as a covered cabin with comfortable seating and large windows so shade-dwellers won't miss the breathtaking scenery. The restrooms are also a welcome feature; no typical cramped boat head, they are large enough to be wheelchair accessible.
Getting into the water from Fair Wind II is easy via two wide staircases that flip out into the water; swimmers are waist-deep in the bay before they even step off the boat. The crew keeps passengers busy with inner tube races and "cannonball" competitions during which guests jump from the top deck, holding their legs to their chest, to see who can make the biggest splash.
Weather permitting, groups can arrange private night snorkeling adventures aboard Fair Wind II. The sailboat arrives in the bay just as the sun sets. Lights are lowered into the water, and swimmers are equipped with flashlights to facilitate viewing.
Kealakekua Bay is regarded as one of the best snorkeling and diving experiences in the Islands. A beautiful underwater shelf harbors a profusion of colorful corals and tropical fish. Encircled by cliffs, the bay is akin to a swimming pool: calm, warm and crystal clear. Visibility is up to 100 feet year-round.
"When you're in Kealakekua floating in the water looking up at the cliffs and seeing the burial caves, imagining what it was like when an ancient community was living here, you get chicken skin (goose bumps)," Saplan says. "You're not going to get that emotion lounging around the pool at a resort where a lot of the ambience is manmade. This is Hawai'i in all her natural glory!"
–Hawai'i offers a myriad of possibilities for the meetings and incentives market, be it a formal dinner cruise or a casual snorkeling outing.
–More than 30 percent of Hawai'i's underwater species cannot be seen anywhere else in the world.
–Outside the four walls of offices and meeting rooms, new bonds are forged and people start to think outside the box.